Winner of the Retailer's Association Top Shop Awards: Online Retailing, Waikato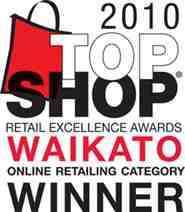 Judges Comments : A very unique store offering great advice and products. Easy to manoeuvre and great advice; a godsend to mums and would be mums to shop from the comfort of their own home – excellent!
'Superb site, everything a would be or new mum could want.  Easy navigation, prompt responses to questions and good advice given.'
Special thanks to all of the team at BKA who have worked with us over the past few months to relaunch the website, it all happened just in time for the judges!