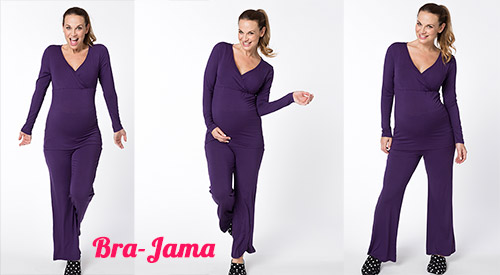 Introducing our  Bra-Jama.
I developed this product due to customer feedback, you ladies asked for maternity sleepwer, and breastfeeding sleepwear that was cosy.  Comfortable Pajamas with an inner shelf support.  Easy breastfeeding openings. Long coverage over tummy and back.  Long sleeve.    No fumbling with buttons and clips in the middle of the night.  Mild support for boobs. Not wearing a nursing bra to bed. Lots of coverage over your arms.  Not silky.  No lace.  Comfy pants with long length not shorties.
So I'd like to introduce you to my new style: Bra-Jama by Franny.
So say goodbye to chilly nights, and imagine all the other mums that are up at night tending to their baby just like you.
This is a combination of a bra and PJ – hence the name Bra-Jama.  And the pants are comfy too.  They have a high waistband, which can also be worn folded down at hips.  Gorgeously soft material.
You can mix-n-match your top and bottom sizes.  Shop here:  Maternity PJs  Breastfeeding Sleepwear
I hope  you like it!
Franny
P.s add your own slippers and wear all day