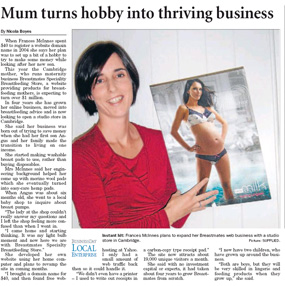 June 2009 The Waikato Times runs a story which details how we started our business from scratch in 2004, and grew it with DIY to where we are today.
and here is the text to save you squinting:
Mum Turns Hobby into Thriving Business
Waikato Times, by Nicola Boyes
When Frances McInnes spent $40 to register a website domain name in 2004 she says her plan was to set up a bit of a hobby to try to make some money while looking after her new son.
This year the Cambridge mother, who runs maternity business Breastmates Speciality Breastfeeding Store, a website providing products for breastfeeding mothers, turning over a significant amount. In four years she has grown her online business, moved into breastfeeding advice and is now looking to open a studio store in Cambridge.
She said her business was born out of trying to save money when she had her first son Angus and her family made the transition to living on one income.
She started making washable breast pads to use, rather than buying disposables. Mrs McInnes said her engineering background helped her come up with merino wool pads which she eventually turned into easy-care hemp pads.
When Angus was about six months old, she went to a local baby shop to inquire about breast pumps.
"The lady at the shop couldn't really answer my questions and I left the shop feeling more confused than when I went in. "I came home and starting thinking. It was my light bulb moment and now here we are with Breastmates Specialty Breastfeeding Store."
She developed her own website using her home computer and plans to revamp the site in coming months.
"I brought a domain name for $40, and then found free webhosting at Yahoo. I only had a small amount of web traffic back then so it could handle it.
"We didn't even have a printer I used to write out receipts in a carbon-copy type receipt pad."
The site now attracts about 19,000 unique visitors a month. She said with no investment capital or experts, it had taken about four years to grow Breastmates from scratch.
"I now have two children, who have grown up around the business. "Both are boys, but they will be very skilled in lingerie and feeding products when they grow up," she said.