Dresses for the Races  (and other occasions)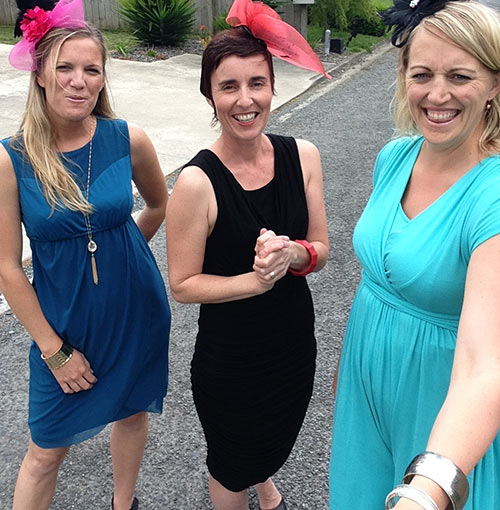 Today with my friends Natalie and Hannah, we got spruced up for cup day!   (this is me Franny in the middle).   We were wearing Breastmates dresses (designed by me)… with silly little hats for the races!  It was fun!
These are dresses that you see on my website here: Dresses – which were originally designed for maternity and breastfeeding.  These styles all have breastfeeding openings that are discretely hidden through either empire line lift up, or cowl-neck pull down.  Though for the record none of us are breastfeeding any more, we have 8 kidlets between us.  I wanted to show today that these styles are suitable for mum-bods too – you don't have to be preggers or feeding.  The fabric drapes lovely and they fit nicely even when you don't have a pregnant belly to fill it out.
Featured today are the Jewel Dress, (the colour of this is a dark teal and Natalie received lots of comments on the gorgeous colour, Little Black Dress (my favourite: full of body rouching which is very flattering and won't go out of style) and the Aquamarine Cleo Dress – with an empire line and drape, which is also available in black.  Click on our webstore links to see each of these styles in more detail, including our demo videos on non-pregnant bodies.