our new Clip-on-Cami converts your wardrobe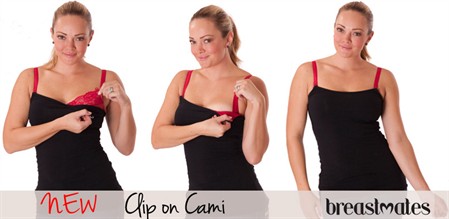 A little background into the development of our new Clip-on-Cami
For several years now, I have been selling various brands of nursing camisoles / nursing tank tops. These were always cotton style, or silky camisoles that had adaptable straps like a bra, and had an inner shelf bra, and cups that open for breastfeeding. But the shelf bra was very basic and not great for support. Personally, I would never wear one of those camisoles without a bra on underneath, particulary in the day time.
So that meant that I'd be wearing my bra, plus a nursing camisole (to be warm and keep my tummy covered). And would mean that I'd need to open my bra and then cami at breastfeeding time. So would have double straps on my shoulder, and double bra support which was O.T.T.
There was another undergarment that I really liked – this was the Breast Vest. But this also meant double straps on the shoulders. And with this item, if I got caught short, there was no way that I could wear it without a tshirt as my bra cups would have been visible.
So we needed something that:
(a) didn't have extra bra support, as I was already wearing a good bra
(b) didn't provide extra straps as I already had bra straps
(c) didn't interfer with nursing bra openings
(d) incase of emergency, something that wouldn't look too bad or indecent, if it was worn by itself like a singlet without a tshirt over top.
(e) could be worn with my own regular clothing, while keeping my tummy covered.
(f) good lenght to cover tummy and hips, and provide layering
(g) budget friendly. (We were able to achieve a retail price of $27.90)
And so that is how the Clip-on-Cami was born. It is our Breastmates own brand.
It is just a strapless camisole. Instead of having straps, it has two elastic loops which you stretch over your bra clip. So you can wear it all day along with your nursing bra. Then when its time to feed baby, just unclip your bra as usual.
You can wear your own regular clothing over top. But still feel confident, and warm, when lifting your clothes to feed baby, with this Clip-on-Cami underneath.
Click Here to Visit our Store Page