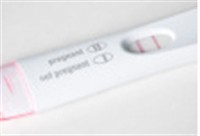 The big announcement
Announcing your pregnancy is an exciting and memorable moment for any pregnant mum-to-be. Instead of simply saying the words "We're having a baby!", planning a fun, imaginative, and even quirky way to reveal your pregnancy to family and friends will ensure that your magical moment is remembered for years to come.
Snap it
What better way to preserve your families' astonishment than by capturing your announcement on camera? Under the pretext of taking a family portrait, gather together your family and, just before the picture is snapped, instead of the usual "Say cheese!", announce your exciting news. Their surprise and wonder will provide a lasting memory for your baby scrapbook.
Give a gift
Break the news to Dad-to-Be by having a teddy bear or baby-themed balloons sent to him at the office. Or send a card or a gift of a newborn baby bodysuit or booties to the future grandparents, congratulating them on the impending arrival of their new grandchild.
Wear it
Have a t-shirt printed with the message "Bun in the oven" or "Pea in my pod". Wear it at your next family gathering and see how long it takes someone to comment. For the dad-to-be, write a note on your pregnant tummy using a washable marker that reads something like "Hi, Daddy! Can't wait to meet you!"
Picture this
Take a photo of your pregnancy test and email it to friends or family, or post it on Facebook or Twitter. Print out a photo from your first scan and stick it in the front of a baby brag book, then give it to the new grandparents-to-be for a glimpse of their developing grandchild and an album already prepared for future photos of the little one.
Use the web
With family members spread all over the globe, social media websites like Facebook and Twitter bring family and friends a little closer. Create an event page on Facebook with a "save the date" invitation for your expected due date. Or upload a YouTube video announcement for real impact and send your friends the link.
One in the oven
If you're attending or hosting a family gathering, bake a cake or a "bun in the oven" as a way to share your exciting news. Decorate it in pink and blue icing and top it with baby-themed cake decorations.
Get little ones involved
Including older siblings-to-be in your announcement helps them to feel special and involved in the excitement. They could wear a T-shirt with "I'm going to be a big brother!" or "I'm going to be a big sister!" printed on it. Or just tell them before a big family event like a dinner or holiday gathering and watch how fast the news spreads – small children can't help themselves!