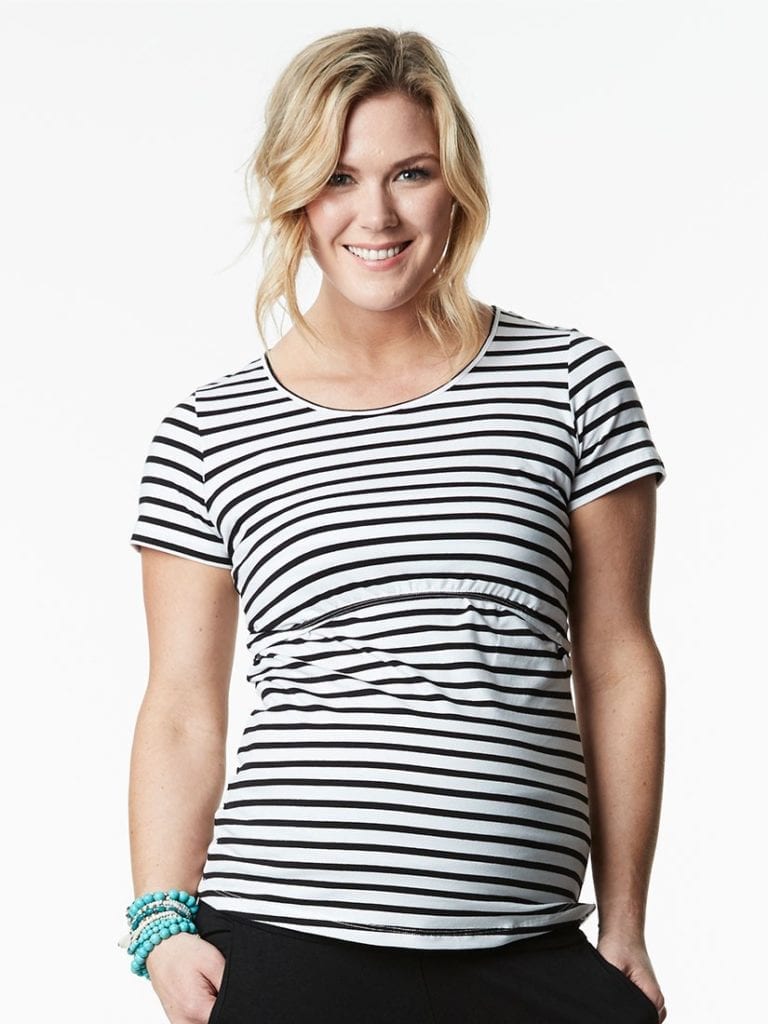 Do you need a beginner's guide to buying maternity clothes? When you first find out you're pregnant, you may think it'll be a long time until you'll need (or even want) to start buying maternity clothing. When you're not even showing any hint of a baby bump, it can be difficult to picture what your body will look like in maternity clothes, what styles will suit you, what size to get, or even what item to buy first.
So where (and when) do you start with maternity clothes? Here's a handy "beginner's guide" to buying maternity clothing.
Start with leggings.
Your bump may not be showing yet, but it won't be long before your pants start to feel a bit tight around your waist as your body slowly changes shape. Leggings are a great item to buy first, because they are fitted to your body and stretch with your growing bump. You can wear them as pyjama pants or under dresses, and they'll come in handy post-pregnancy too. And if you're thinking of keeping the big news a secret until after the 12-week mark, rest assured, no one will know the difference between regular leggings and maternity leggings but you.
Buy a maternity bra.
A maternity bra is definitely at the top of our beginner's guide. During the first trimester especially, your breasts may feel sore and uncomfortable, and may become swollen and sensitive. Your usual underwire bra isn't going to cut it for very long, but a maternity bra is made to support your bust while being comfortable and not constraining your breasts in uncomfortable places. Don't be tempted to upsize – buy your regular bra size to start. (Remember that Breastmates offers no-fuss returns and exchanges!)
Invest in a comfortable cardi.
A lightweight, comfortable cardigan is one of the most versatile items of maternity clothing you can buy, and you can wear it right from the time you find out you're pregnant. It's great to snuggle up in or wrap around your body if you're feeling a bit like you don't want to show off your pregnant shape just yet. Plus a maternity cardi has extra material to drape over your bump, so you'll always feel like you're wearing something that fits properly (unlike regular cardis, which can become stretched out of shape as your bump grows). So save your pre-pregnancy cardigans and invest in a maternity cardi you can wear through your whole pregnancy and beyond.
Know your options when it comes to jeans.
If you live in your jeans, know that you have some good options to help you keep wearing your favourite style:
You can wear them as usual until your bump pops out and you can no longer fasten them, but wear a belly belt which attaches to your jeans and covers your bump.
You can wear them unbuttoned with a stretchy belly band over the waist, covering the waistband of your jeans and giving your bump coverage.
You can upgrade to maternity jeans. There are heaps of styles which have soft, stretchy, bump-friendly waistbands and are just as stylish as your regular jeans. Maternity jeans are much more comfortable than regular jeans as they're made for pregnant bodies. They are also great to wear post-pregnancy too, particularly when you first come out of hospital and your bump hasn't quite deflated yet.
Buy a nice top or dress that makes you feel as good as you look.
Many mums-to-be find pregnancy body changes exciting but a bit intimidating. When your clothes don't quite fit and you can't see your feet, the last thing you want to feel is frumpy and uncomfortable in what you're wearing! Invest in a nice top or dress that you love and feel good wearing. It'll make a great deal of positive difference to your self-confidence, and you'll love knowing that you're wearing something that fits and flatters your beautiful pregnant shape.
Remember, you can wear these clothes after your baby arrives too.
It can be intimidating to think about buying a whole new wardrobe just because you're pregnant, but actually, modern maternity clothes are so well designed that it will grow with you throughout pregnancy, breastfeeding, and beyond. It's no longer all about pastel gingham smocks and oversized overalls. Maternity clothes now are stylish and well-fitted, and actually make you look fabulous because they are fitted to your shape. And they have discreet openings for breastfeeding, so you can wear them when your baby arrives and not look or feel like you're dressed in something that's unflattering or too big.
Resist the urge to just buy cheap, oversized clothes that don't fit properly.
Pregnancy is a time when you'll want to feel good about yourself, so don't dress your bump in cheap, ill-fitted T-shirts from the men's section of your local discount store, or "regular" clothing that's just in bigger sizes. Maternity clothes are designed for the pregnant shape, and regular clothes aren't. They'll fit weirdly, get stretched out of shape, and feel uncomfortable. Remember this as you start to plan your maternity wardrobe!
If it doesn't fit, return it, or buy two sizes and keep the one that fits.
Breastmates has a no-fuss returns policy that aims to make it easier for customers to send back items that don't fit without any stress or drama. So if you're unsure about sizes, or if you're between sizes in your non-pregnancy wardrobe, you can purchase two sizes and keep the one that fits. And remember, you can always contact our friendly team to ask for advice on sizes.
Beginner's guide bonus tips: Maternity clothes essentials
Here's all you need for a maternity clothing "capsule wardrobe" you can add to as your pregnancy progresses and the seasons change.
Leggings
Maternity bra
Cardigan
Short-sleeved top
Maternity jeans
Wrap dress
Clip-on cami (great for wearing in hospital too!)