Here are a few things that you might like to pack in your hospital bag.  Or that you might want to organize if you are having a home birth. You won't need all of them, we've just picked out a few key things.
Unmentionables
Are you going to have a look?  The product picture didn't quite match our website style but still a super handy product….
Absolutely essential.  Pack this in your hospital bag and use it every time after baby feeds.  Nipple damage can occur during those first few feeds, when you and baby are both learning.  Pack this in your bag!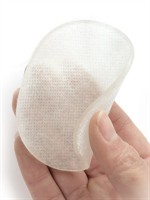 Hydrogel Breast Discs
Another highly recommended item to add in your bag.  Healing, cooling and soothing breast discs.  If you do get a nipple crack or graze (ouchies!) then these will heal them up super fast.  But you won't want to waste time ordering after baby is born, you'll want to get them healed straight away.  We've had mothers calling us in tears desperate for this product.
Breast pads of course! It will take a couple of days for your milk to come in, so pack these in your bag.  We also have disposable versions if you prefer
Breastfeeding Top
A breastfeeding top which has a zipper that opens right across the front, so you have plenty of space.  Particularly handy with a newborn baby and you are trying to master the art of latching & holding.  Relaxed fit.
A little wristband that will help you keep track of the times and side that you breastfeed baby – just one less thing to worry about. You could also use to count the number of baby kicks in pregnancy, and keep track of contractions during labour.
Other ideas of what to pack in your bag:
camera + batteries and clear memory stick
phone, charger, and credit
magazine
treats and snacks to eat during your stay
powerade