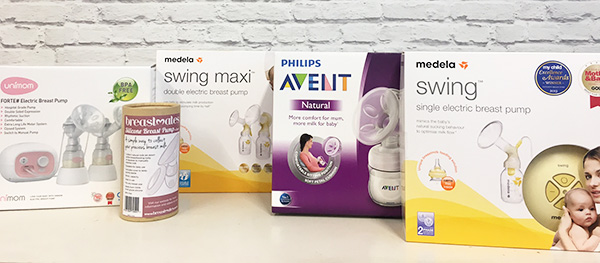 We carry a few brands of breast pumps here at Breastmates – though there are many more in the market.   We stock Unimom, Philips Avent, Medela, and have our own brand of silicone breast pump.
Philips Avent – comfort natural manual, comfort natural electric
Medela – Harmony, Swing, Swing Maxi, Freestyle
Unimom – Mezzo, Allegro, Forte
There are many more breast pumps available in the market (eg Nuk, Tommee Tippee, Nuborn, Ameda etc) but we have narrowed our selection to a smaller choice range.   With the pumps that we stock, we can help you figure out which one is best to suit your needs (it really just depends on how often you plan on expressing, and where you will be using it).   All of the pumps we stock have a great reputation in terms of quality and performance…..   The most important thing for you as our customer is that you can rely on the pump, and that it works really well, so you have minimal time hooked up to using it.
All of the breast pump brands that we stock have a one year warranty on the motor and electrical parts.    However the small pieces like tiny rubber valves etc – those aren't covered by warranty because they can undergo wear'n'tear.   Though we do carry every possible breast pump spare part at our store  – so that if something does go wrong – we can get a new part out to you Pronto!
The most simpliest pump that we have is the Silicone Breast Pump (it has no parts to assemble and is just one piece of silicone).  This is perfect to use while breastfeeding baby on the other side, to catch letdown which would otherwise be wasted in a breast pad.   This is an easy way to build up a milk stash.
If you do have any questions, just email us.  We are always here to help you with the choices of breast pumps.