Last week we were looking for a Guest Reviewer to write about our Footless Maternity Tights.
(FYI: we also have full maternity pantyhose and footed styles of tights over here:  Maternity Hoisery)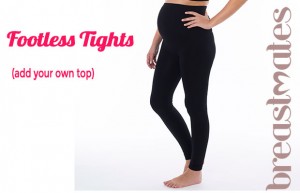 This is what Alana has said:
"Firstly thanks for much for letting me trial them. You have never seen a package opened so quickly, with the farmers ones coming off (and into the bin) and these ones going on for a house work and cooking work out.
Wow was an amazing fabric, they feel extremely smooth and comfortable on, and look like they will not pill or pull easily. The coverage is great and not see through at all, through because they are pantyhoses rather than tights I would not wear them without anything that does not cover my bottom.
One of the best features about these stockings is the fit, the fit well around my tummy with heaps of room to grow, but not baggy at all, but they are they also fitted to your hits and buttock meaning that they give you a great shape, or at least I feel great in them. I have not had to pull them up once yet which for me is great. They also are not too tight under the bust (which is were they come up to on me) which means they are super comfortable to wear all day long.
I am 163cm tall and weigh 60kgs (18 weeks pregnant). The tights are of a good length although because I am on the shorter side I had to fold them over at the bottom so that they were not scrunched up throughout the leg.
I am going to be ordering more as thing these will be my staple item for my bottom half with boots."
Shop Now:  Footless Maternity Tights.