Cashew Banana Chew
This delicious chew is packed full of fruit and is easily digestible for babies and toddlers. The cashews provide protein and essential fatty acids for their developing brain. This recipe makes a large batch, so freeze half if necessary and remove squares as needed for a cool teething treat.
Preparation time 15 minutes
Cooking time 20 minutes
Makes 15-20
1/2 cup cashews
2 ripe bananas
Squeeze of lemon
1/2 tsp finely grated lemon zest (optional)
4 Tbsp neutral oil or 50 g melted butter
Few drops of vanilla
1/2 tsp cinnamon
1/2 cup small rolled oats
1/2 cup desiccated coconut
1 apple, grated
1 egg or; 2 tsp ground flax seeds mixed with 2 Tbsp water
Pre-heat the oven to 180•C.
Line a 25 cm square baking tin with baking paper.
Place the cashews in a food processor and grind. Add the bananas, lemon juice, lemon zest, oil or butter, and vanilla. Blitz to combine.
Add the remaining ingredients and pulse to fold together. Pour into the prepared tin and spread out evenly. Bake for 20 minutes until golden on top and firm to touch. Cool in the tin and cut into squares or fingers. These will keep in an airtight container in the fridge for up to 5 days.
Variation: use other nuts – almond, brazil, macadamia, walnut – in place of cashews.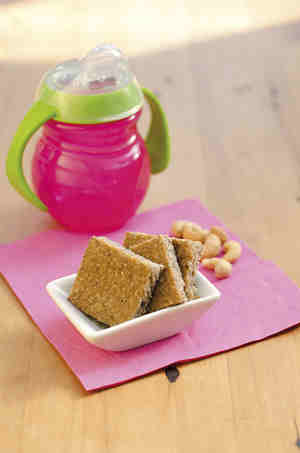 Photo and Recipe from Feeding Little Tummies – healthy recipes from first foods to toddler meals. By Nicola Galloway