Iron-rich Porridge – stage 2 suitable for babies from 7 months of age.
Dried fruit and oats both contain iron, while the vitamin C in the fruit also enhances iron absorption by the body. Note that dried fruits are often treated with sulphite preservatives to retain their colour. Because some babies may react to sulphites, choose preservative-free dried fruits where possible. As a rule raisins, sultanas, currants and dates are generally preservative free (always check packets). Preservative-free dried fruits will generally be darker in colour.
Preparation time 5-10 minutes
Cooking time 4-5 minutes
Approx. 1 tsp finely chopped dried apricots, dates, sultanas or raisins
1/2 cup water
1 Tbsp ground oats or rice cereal
Soak the dried fruit overnight in the water to soften, or simmer for 5 minutes before adding the cereal. In the morning combine the fruit and oats or cereal in a small saucepan. Bring to a boil then simmer for 4-5 minutes until thick, stirring constantly with a wooden spoon. Add extra boiling water if necessary and mash the fruit against the side of the saucepan to break up big lumps. Thin with expressed breast milk, formula or cooled boiled water. Purée if required to remove lumps.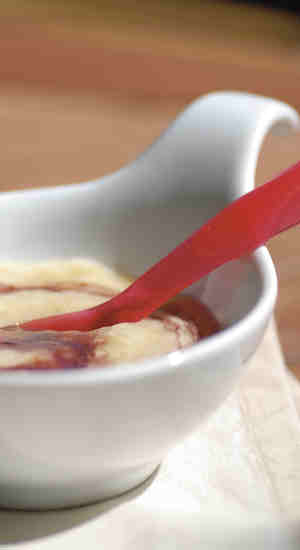 Photo and Recipe from Feeding Little Tummies – healthy recipes from first foods to toddler meals. By Nicola Galloway