Fluffy Zucchini Fritters
These can be made with any combination of vegetables, including sweet corn, diced red capsicum, grated carrot, pumpkin and wilted spinach.
Preparation time 15 minutes plus 10 minutes sitting time
Cooking time 20 minutes
Suitable from 7-8 months – omit the seasoning and ensure they are thoroughly cooked.
Serves 4
3 cups zucchini, grated (3-4 whole zucchini)
2 Tbsp parsley, chopped (optional)
2 eggs, lightly beaten
Salt and pepper
1 cup grated cheese or 200g crumbled feta cheese
1/3 – 1/2 cup flour
1 tsp baking powder
oil or ghee for frying
Drain the grated zucchini in a sieve, squeezing out as much liquid as possible. Combine with the remaining ingredients in a mixing bowl. Set aside for 10 minutes to allow the starch in the flour to absorb the liquid. The mixture should be thick enough to hold its shape when dropped in the pan. If the zucchini is quite watery, you may need to add extra flour to thicken the mixture. Add 1 Tbsp at a time until the right consistency is reached.
Heat a heavy-based frying-pan over a moderate heat. When hot, add a little oil or ghee, swirling it around the pan until the base is evenly coated. Drop spoonfuls of the batter into the pan – the size of the fritters can vary, make small ones for children to eat with their fingers, and larger ones for adults. Cook until bubbles appear on the surface and the edges start to brown, then flip over and cook for a further 2-3 minutes until golden brown. Remove to a plate and keep warm in the oven or cover with foil. Repeat with the remaining mixture, adding a little oil or ghee to the pan between batches. Serve with Zesty Yogurt Sauce or Red Tomato Sauce.
Variation For a fluffier fritter, separate the eggs and whisk the egg whites until stiff. Combine the egg yolks with the fritter ingredients as above, then gently fold through the egg whites.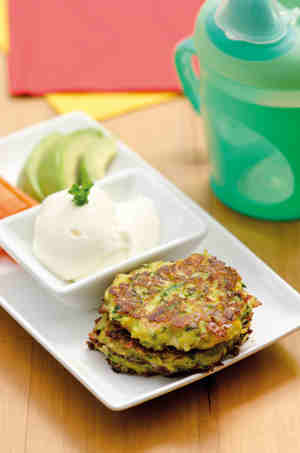 Photo and Recipe from Feeding Little Tummies – healthy recipes from first foods to toddler meals. By Nicola Galloway