Breast Milk Storage Bags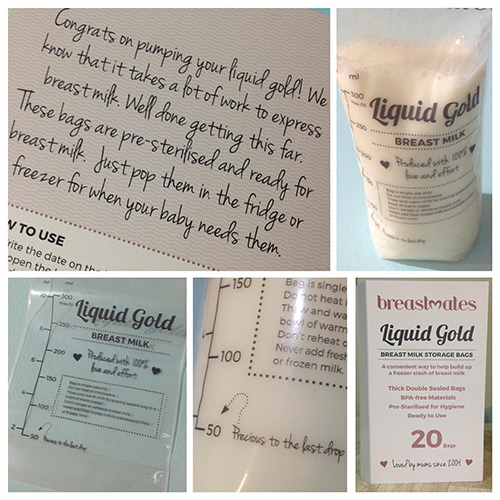 I'm really pleased to show you something I have been working on for the past year….. our breast milk storage bags……   These are simply a pre-sterilized bag, with a sealed double ziplock, that you can use to store breastmilk in the fridge or freezer.  They're ready to use, and can also attach directly to your breast pump (with a bit of cellotape over the top).
They fit medela, unimom, tommee tippee breast pumps that have a narrow neck size – they won't fit directly onto wide neck sizes like Avent.  You can also pump into your breastpump bottle, and then pour the milk into these bags for bulk storage.  Which means that you can use your supply of bottles at feeding time – rather than having them all in storage.
I put some thought into the design and wording on the packaging, because the contents are precious Liquid Gold, and we know it takes a lot of work to express breast milk so I hope you like the surprise wording when you get your bags.
A great way to build up a freezer stash of breast milk!
Made from BPA-free plastic.  They come with 20 bags in a packet, and a little slider case to store them.
Shop for Breast Milk Storage Bags
We also have a multi-buy discount when you buy more than 3 packets, the shopping cart will automatically apply the discount 🙂  Shop now >> Breast Milk Storage Bags