Big Reveal!! Our business boost project draws to an end, a huge thank you to the team of experts that helped with our 12 week challenge.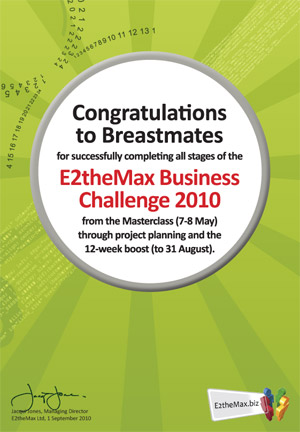 Business Challenge Completion Certificate
We've been really busy recently, undertaking a business growth project while also doing our usual work.  Its been quite a stressful few months, so I'm getting really excited announcing our relaunch and reveal…..
I've had some great contribution from Experts, and I'll tell you about them.
Project management and encouragement from Jacqui at http://www.e2themax.biz
Business documentation and a procedure manual for every aspect of our business, with help from Linda at http://www.esemel.co.nz/
Contracts and HR in place for our new Packer, and contracting Child Birth Educator and Lactation Consultants.  Heaps of help from Catherine at http://www.disputesolutions.co.nz/
Extended the coverage of the Breastmates trademark, both as a word and the boobie logo, to cover more categories.  Lots of IP help from Simon at http://www.jaws.co.nz/
Analysis and review of our sales procedure and customer contact ( top marks already!) and encouragement from Vaughan at http://www.vtsalestraining.com/ and a pretty new website which will take us into the future thanks to the team at http://www.bka.co.nz/
Motivation and opening our eyes to the way our business had already evolved in terms of our connection with mothers.  Donald at http://www.profitableteams.com/