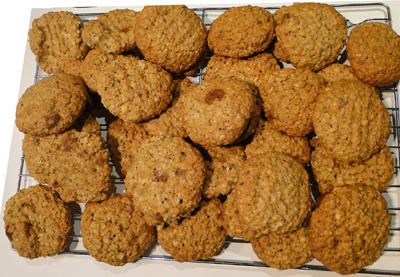 These "Lactation Boosting Cookies" are an easy recipe, and it makes a big batch of yummy cookies.  The combination of ingredients helps to increase your milk supply.  Keep the biscuit tin handy – the whole family will want to eat them.
Bake a batch for yourself, or a friend with a new baby.  Bake them for your coffee group catch up!
We have the premix on our website here for a couple of bucks.  Lactation Boosting Cookies,
But don't just take our word for it, read what some of our customers have said:
Yummy! Great recipe, and fantastic having the yeast and linseed all pre-measured. Good nap-time project!
Fantastic & yummy! Makes heaps & they do really help keep ur supply up.  Jos
super cookies,im gluten intolerent and i subsitute with wheat free oats(they are finer) but still works a treat.  Lynda
YUM! Delicious bickies and the recipe makes A LOT. The dough seemed a bit wet but baked perfectly making a cookie with just the right amount of chew. I added in a few extra chocolate chips and about half a cup of chopped dried apricots. I froze half the dough and made up the rest. Great to serve at coffee groups.  Emma
I make these all the time. They only ever last a week and this recipe makes HEAPS! My kids and hubby love em too! I noticed after eating a few my milk squirts out like the early days when I needed to wear breast pads! Great for the extra pumping I have squeezed in to supply a friends baby.  Rebecca
These cookies are delicious! And they do help with supply. They have been a real treat in our house and everyone loves them! I was also very impressed with the service and speed of delivery. Have recommended this website to my pregnant and mummy friends.  Tracey
This is such a great idea. I had such trouble trying to locate these ingredients so was thrilled when I saw breastmates sold them! These cookies have made a big difference to my supply and are pretty yum too.  Anna