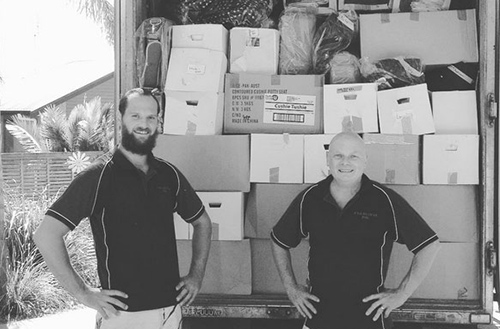 Business Milestone: Moving out of Home
March 2016: After running my little business from home for the past 10+ years, it is finally time to move.   A very exciting, and nerve-wrecking process!
I had taken over the double garage at home with all our stock (it was chockablock) and I also had a storage facility too.  So I was always going back and forth between places, and at home I felt like such a hoarder seeing everything in the garage.  It was also a bit of a cramped space for me and my girls to work every day.
So the time has come to move out.  We'll take the plunge and move to a warehouse- complete with showroom + office, smoko room,  storage, packing and work areas, carparking all in one place.  Just like a proper business!
It took one day – and numerous truck loads- but these two moving guys Mark and Chris, managed to pack all our stock and dismantle all the shelves; and reassemble in the new location.   With no disruption to orders.
Visitors will also be welcome to come to the showroom – just contact us to make an appointment.  We'll be the only maternity shop in Cambridge.
Such a milestone and massive achievement.  Yay me – I did it!!!   (Remember I started my business with one product that I made and sold on trademe – all my stock use to fit in an archive box!!)