All money from your purchase of a new Maternity Wrap Dresses will be donated to the Christchurch Earthquake appeal.
I was going to announce the arrival of this new product today.  Instead, for all sales of this Precious Wrap Dress for the next 3 days, I'm going to donate the money for the Christchurch Earthquake Appeal.    They are $79.95 each – which I will donate 100%  for each one sold.  These wrap dresses are good for pregnancy, labour, nightie etc, a versatile item!
(sales from Wednesday, Thursday, and Friday will be donated to the appeal)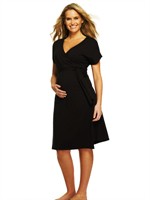 Our hearts go out to everyone affected by the latest earthquake, and we will be doing more to help.
Other Donation Methods
John Key has said that NZers can help best by donating money, rather than offering man power. There are numerous way in which people can do this:
Westpac Bank is working in partnership with the Salvation Army – Donations can be made at the branches or online to account: 03-0207-0617331-00
ANZ is taking donations at the branches or online to account: 01-1839-0188939-00
The National Bank is taking donations at the branches or online to account: 06-0869-0548507-00
Vodafone customers can Txt QUAKE to 333 to make a $3 donation, or Txt QUAKE to 555 to make a $5 donation
Medical professionals who want to offer assistance to Christchurch can call 027 431 6986
Aucklanders who would like to register to provide accommodation to Cantabrians can phone: 0800 AUCKLAND
[update – for the month of March, we will donate $5 from every bra sold to the Earthquake fund]