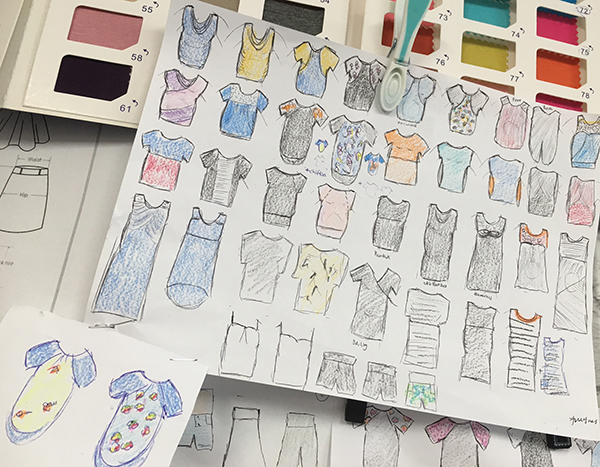 It's really exciting at Breastmates HQ  this week……. finally after months of work – our new summer maternity clothes designs have arrived.  So we can finally launch this new collection.  These are my own exclusive designs, that originated from my pencil drawings.  You won't find these styles ANYWHERE else!   It's been quite a process from drawing, sampling, choosing fabrics, testing them, spot checking the factory, naming the styles, managing photoshoots, and uploading to the website.   I really put so much of my heart into each item, I hope you find a few pieces that you like.
This range of maternity clothes and breastfeeding clothes, is a mixture of bold'n'bright colour, safe soft tones, and classics.  There's a little bit of something to appeal to everyone.    I have created a range of maternity clothes that are dual wear, they can fit preggie bumps and then can be worn after, with their secret hidden breastfeeding openings.  (This this dual purpose design is what Breastmates is well known for).
This season we have also started a range of mum-wear, designs that are more fitted, without space for preggie bump, and obviously with secret breastfeeding openings too.   We have a few pieces of casual wear, and some more formal corporate styles in this mum-wear range.
I have got modelled photos on my website, for each product page.  And we've also recorded demo videos for each style, on a regular mum body, so that you can see how each style can be suited for non-pregnant body shapes.  The videos show how the style opens for breastfeeding, and general look on body with a rotation aswell so you can see front and back.
I hope you love this new collection as much as I do.
Enjoy browsing online and shopping
Franny xx