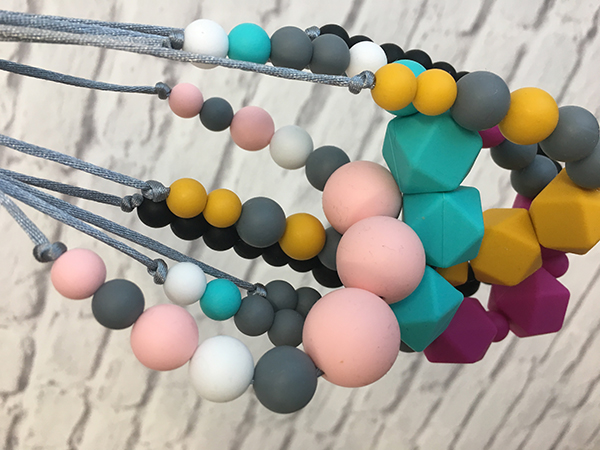 We have a gorgeous new range of Silicone Teething Jewellery available at Breastmates, bright and colourful, with different textures and shapes of beads.  Some have feature beads of large rounds, or geometric beads,  all balanced with various other sizes to make a great stylish necklace.   Mixed with brights and neutral grey/black combo.
Silicone Teething Jewellery serves a triple purpose:
(a) handy for mum to wear and accessorize her outfit (many woman stop wearing necklaces when they have a baby that might yank on them),
(b) they are soft, chewable, textured for baby to hold, and chew when they need it.   The necklaces have a breakaway snap clasp – so if a little person tugs on it too hard, then it simply opens the necklace fasten without breaking.
(c) they are interesting for baby to focus on when breastfeeding.  We all know those moments when you're trying to breastfeed baby and all they want to do is be nosy, looking at everyone else in the room.   Giving them a necklace to focus on, and touch, while feeding can be very calming for baby.
Lots of mums have told us that they stop wearing necklaces when they have little babies, because bubs either chews on plastic beads, or tugs on the chain and breaks it.   So these are really a great way to accessorise your wardrobe and add some style back in.    We have chosen bright and neutral colours so that you can mix'n'match with your new Breastmates clothes.
We also have chunky geo silicone teething bangles in our range of Silicone Teething Jewellery.  These are great for any woman (not just mums with babies) because they are easy to wear.  Being silicone they don't make heaps of noise when you wear them on your wrist, or bang and clank when you are sitting at your desk.   If you do have a baby, the silicone teething bangle is handy to share with baby at those times when they need it… e.g when they are having a melt down at the supermarket and you have to improvise and give them something to occupy,  use your bangle!  Its safe for baby to chew on.
So please feel welcome to browse our range of Silicone Teething Jewellery