SugarCandy UpLift Tech – the incredible design features with the Cake Maternity Bras

True comfort is about more than just ditching the underwire. It comes from a combination of soft materials, support, separation, lift and fit flexibility.  The Cake Maternity Bras that we stock at Breastmates, are so different to other bras on the market, we thought we'd do a feature to tell you about the technology.  These styles have got a lot going on behind the seams that sets them apart – it's called t UpLift Tech and it's how they holistically create feel-good support without compromise.
Why? Because busty babes like you deserve to feel supported without compromise. That means designing solutions specifically for larger busts that go far beyond comfort.
In a nutshell, SugarCandy is the feel-good bralette that's elevating F, FF, G, GG & H cups – available on Breastmates store here: Cake Maternity Bras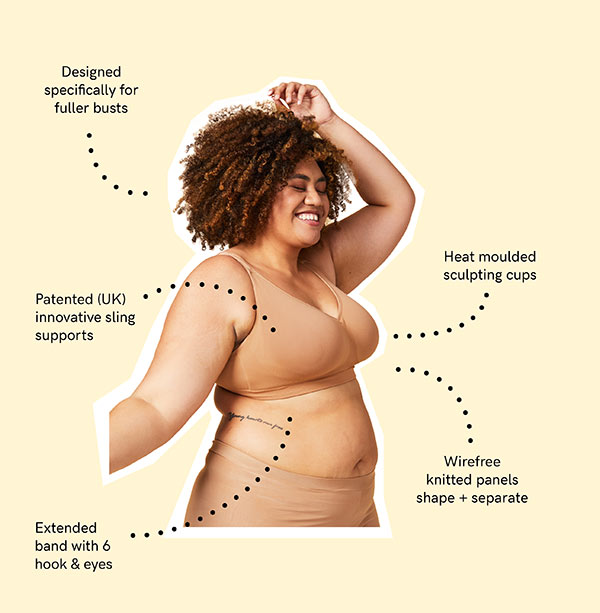 Wireless support
24/7 comfort bra
Sculpted shape + separation
Game-changing lift
6 easy sizes, covering 35 cup & band sizes.
Seamless second skin
Live unrestricted
4-way stretch recovery
Sustainably made
Designed for fuller busts first.  Developing solutions that go far beyond comfort. Cake Maternity have over 15 years of experience designing and manufacturing bras for fuller busts, we've spent years innovating support mechanisms that aren't going to let you down.
Wireless support, built different.
The innovative power-mesh platform and side slings, knitted support panels, moulded cups and flexi-fit underband work together to support, separate, sculpt and lift by mimicking the structure of a wired bra, wire-free! Together it makes an unbelievably comfy bralette with unrivalled support.
24/7 comfort. Anytime, anywhere. 
Made from super-strong yet ultra-soft NILIT™ 6.6 yarn, SugarCandy* is literally track pants for your boobs (just read the reviews). Seamlessly knitted in a tube, this luxe yarn allows us to achieve wireless support without compromising on comfort. With wide, elastane-free straps and nickel-free hardware, your boobs will be in a state of bliss, all day and all night long.
A bra that adapts to you.
Bodies change, that's totally normal. So, we created a bra that moves, morphs and adapts to your body. The durable knitted construction creates 4-way stretch recovery that allows our bras to hold their shape and offer uncompromised support wear after wear. Along with the flexi-underband, moulded cups, extended 6 hook & eyes and adjustable straps, our bras are made for you.
Good for all the globe(s).
From our innovative, waste-minimising production (our bras are knitted to size in a tube with NILIT™ 6.6 yarn) and durable, high-quality & long-wearing bras, to our solar-powered HQ and Oeko-Tex Standard 100 Certification, we're passionate about sustainability and are constantly working towards being as eco-conscious as possible. Learn more.
How it works — the features 
We might look just like your regular wire-free comfort bra, but there's a lot going on behind the seams that you can't see. We're different to those other bras and we've got the tech to prove it. Discover the individual parts that work together to create our unique UpLift Tech.
Platform sling
with power-mesh
The patented (UK) underbust platform sling supports, lifts and separates fuller busts with its lightweight and incredibly heavy-duty power-mesh lining. The platform creates a supportive shelf for your breasts to comfortably sit.
Sculpting
side slings
Our supportive power-mesh side slings exist to shape and sculpt your breasts, by projecting them forward into the moulded cups. This helps to eliminate those east-to-west facing boobs that comfort bras are notorious for.
Fixed knitted
support panels
These panels act like shapewear and give the bra its sculpted structure. They, along with the slings, help to prevent mono-boob by providing seamless separation—just like a regular bra—without pesky pokey wires.

Heat moulded
contouring cups
Say goodbye to the mono-boob (and boob chafe + boob sweat) with our double-layered, heat moulded cups. Designed to hug your body like a second skin, their seamless flexible knit construction sculpts like shapewear to give your boobs a natural and separated profile while offering additional support and lift.
Soft + seamless
NILIT® 6.6 yarn
Knitted in a tube, our bras are made from a super-strong yet ultra-soft NILIT™ 6.6 yarn called Softex (the name ain't lying). It's incredibly durable and long-wearing with great stretch retention.
4-way stretch
recovery
Bodies change, that's totally normal (hello PMS)! Our durable knitted construction creates a 4-way stretch recovery that allows our bras to adapt to your body while offering uncompromised support with every wear.
Flexi-fit
underband
Designed like an accordion, our ribbed underband offers maximum stretch and retention with every wear. It houses an additional piece of elastic sewn along the band to inhibit rolling or folding within the channel.

Elastane-free,
adjustable straps
Our adjustable straps are wider, thicker and made without elastane. This ensures that they're comfortable for all-day wear, extra strong and don't over-stretch, which in turn helps them last longer.

Our Posh, Crush and Lux styles feature a J-hook that's separate from the strap adjustment sliders. This allows you to transform them into a racerback style.

Extended
6 hook & eye
Each bra features 6 hook and eye options offering sizing flexibility for your comfort. This allows you space to expand or contract up to half a size because bodies evolve, and we're here to support that.

Say goodbye

to boob sweat

Boobs can get sweaty, especially when there's no separation. That's why our slings and moulded cups work together to provide that separation, while our antimicrobial moisture-wicking yarn will keep you dry and confident all year round.
Designed for
sensitive skin
For the sensitive skin gals, our high-quality hardware is 100% nickel-free! We've scrapped the irritating tags too, and instead, print the details onto the inside of the bra.

Oeko-tex Standard
100 Certified
All of our yarn is dyed according to Oeko-Tex Standard 100 and we're Oeko-Tex certified. Basically, this means they've been tested for harmful substances and have been deemed harmless in human ecological terms. Boo-yah!