Maternity Design |  Self Employed Mama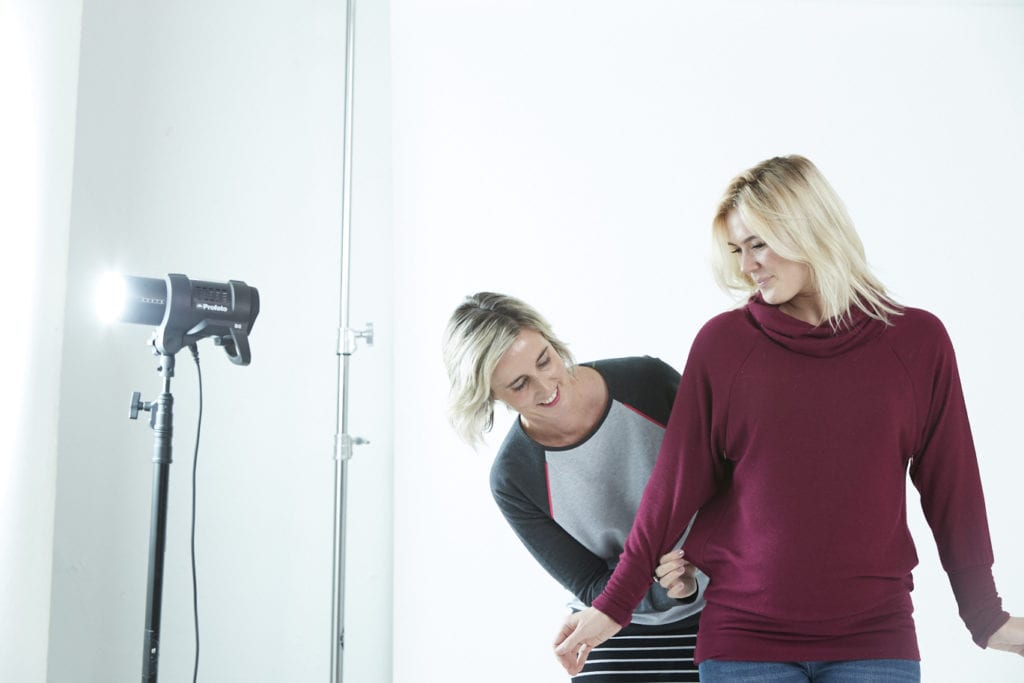 I love running photoshoots, and have a great team that help me.   I rent a photography studio in Auckland – and this includes Josh & Nina the photographers, and equipment like the lights, reflectors and tether to laptop.   The photoshoot is really the first time I see my designs come to life…..
My Product Design Process:
You know I'm a self employed mama, I love creating and bringing products to life.  I love designing products that help women to feel great, that they love to wear, which are useful, easy to feed in, and which people compliment on how great they look.    Although I never had any training in design and production, I always use to sew my own clothes and through running my business over the past 15 years I've learnt more about production.  My process involves about 8 months of work, the following steps
-firstly travelling to China to find fabric swatches,
-coming home and narrowing down fabrics,
-designing the styles, drawing,
-making,refining and testing samples,
-sending the specifications to the factory and communications with them,
-forecasting numbers,
-ordering in bulk for production (and raising capital),
-organizing shipment and customs clearance,
-naming the styles,
-prepping the website pages
-organizing warehouse to make space (or running a sale)
– then its the photoshoot
-uploading photos to website ready to launch
The photoshoot is the first stage where I see the styles on a real body, in their final colours.  (Other than the ones that I test on myself and mannequin, sometimes they aren't in the final fabric colours.  I often get a worry in my gut that perhaps my colour choices were CRAZY, and I say to myself "what the heck was I thinking…"  but I'm always my harshest critic, and worry and angst is always part of how I run my business.    Things usually turn out alright!
My styles this season have a lot of colour, some crazy print, some safety with stripes, bold colour like turqouise with dashes of mustard and rust, and yet safe colours too like navy and grey.   I'm trying to cater for lots of styles and tastes of my customers – without being boring, and without having a massive stockpile!
All of my styles are suitable to be worn throughout pregnancy, they all have breastfeeding access, and they all look great for post-partum mum wear too.  I have a lot of customers that are nolonger maternity or breastfeeding, who still purchase my designs as they like how they fit and drape.
Anyway, check them out yourself on our New Arrivals page.    Each product on my website has a unique description, multiple images, and also a video showing you how the breastfeeding openings work (worn on non-pregnant body – ME).
In these goofy pics below my model is wearing our Burgandy Sweater, and I'm wearing "Not Just a Grey Sweatshirt" – its got funky pink zips….
Thanks for reading
Franny x