Breastfeeding your baby in public can be intimidating, especially when you're still learning to breastfeed and feel self-conscious. Here's how to feel more comfortable breastfeeding your baby out and about.
1.       Know your rights. Under the Human Rights Act, it is illegal for someone to stop you breastfeeding in public. Contact 0800 4 YOUR RIGHTS (0800 496 877) to learn more.
2.       Take along a friend. The first few times you venture out with baby can be stressful. It helps to have a supportive friend along.
3.       Look for a parents' room. Many malls have parents' rooms with sofas and chairs for breastfeeding mums.
4.       Invest in a nursing cover. A nursing cover is comfortable and discreet but still allow you to see your baby breastfeeding. Nursing covers come in a range of gorgeous fabrics and patterns, and they're compact enough that you can keep one in the nappy bag.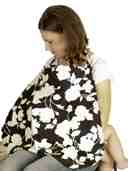 5.       Only do what you are comfortable with. It may take you a little while before breastfeeding is second nature. Go at your own pace.
6.       Choose breastfeeding-friendly clothes. Nursing tops, breastfeeding tunics, and nursing dresses are all great options for breastfeeding on the go. They have hidden openings to allow you to breastfeed your baby easily and discreetly without feeling exposed.
7.       Get a good, supportive nursing bra.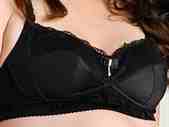 Breastfeeding bras are easy to hook and unhook without removing your outer clothing, and nursing bras come in a range of pretty yet comfortable fabrics and colours.
8.       Take it in steps. Do a test run by breastfeeding at home or at a friend's house to start. Next time, head to a coffee group or mother's group. Once you feel confident breastfeeding in those places, venture out to a coffee with a friend, before working up to solo trips.
9.       Practise makes perfect. Breastfeed your baby in front of a mirror so you can see what you look like. The truth is, 99.999% of women aren't the least bit interested in flashing their breasts while they breastfeed – and hardly any of the breast is seen anyway, as your baby's head and body will cover almost everything while you're breastfeeding.
10.   Give yourself a pep talk. Remind yourself that you are not merely feeding your baby, you are creating a special bond with him, and helping him to grow and thrive. You deserve a round of applause!