If you have an Avent Classic Manual Breast Pump, we can supply the spare parts.  But please note that Avent have two types of manual pump – the Classic Isis (which has been around for a long time) or the Comfort Natural (which was introduced in 2014).  So please check through the diagram and match which one you have.
We are able to supply the Avent Breast Pump Spare parts (Philips Avent) for all pump models.  This is a diagram showing each of the parts that are available for the Classic  – Avent isis, Isis IQ Uno.
Use these link to easily shop for the parts in our online store:  Avent Manual Breast Pump Parts  and Avent Electric Breast Pump Parts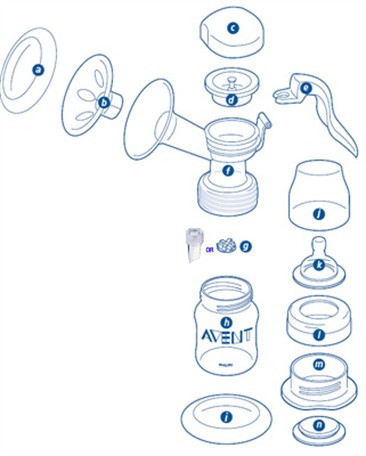 These items are IN STOCK. Use the links at the bottom of the page which will take you to the store for each item.
The shopping link for the parts is here: Avent Classic Breast Pump Parts
A – funnel cover
B – petal massage cushion
C – pump cover
D – diaphragm and stem (we can also source this for the Duo pump)
E – pump handle
F – pump body and funnel
G – Electric Pump valve or we can supply the Star Valve depending on which type came with your pump
H – bottle
I – Stand
J – Dome Cap
K – teat
L and M – Bottle neck and base
N – sealing disc
P – Control Handle Motor (NOT AVAILABLE AS A SPARE PART)
Q – Battery Pack (NOT AVAILABLE AS A SPARE PART)
R- Wall lead (NOT AVAILABLE AS A SPARE PART)