We received an email from Emma recently, who had an old Medela Breast pump that needed some new parts.   She was looking for a new breastshield.    Her breastshield is in the photograph below, where you can see that it is all one-piece with the funnel and the screw end that connects to the breast pump.    She had an old Medela Mini-Electric breast pump.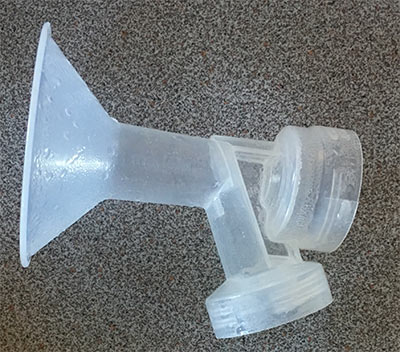 In the above photo it shows a breastshield connector (moulded as one piece) which is what medela supplied on breast pumps several years ago.   Medela don't make them like that anymore.
Nowadays the funnel and connector are two separate pieces.
We have these breast pump spare parts available (click on images below to order).
| | |
| --- | --- |
| | |
| Personal Fit Funnel (available in various sizes) | Personal Fit Connector |
Medela breast pumps are sold with a standard size M (24mm) breast shield.  But some depending on nipple and aureola size, some women need larger or smaller breast shields.  So you can order the size you need as the "Personal Fit Funnel".
To help you determine if you have the right size breast shield, please refer to this article that I wrote previously  Breastshield Size