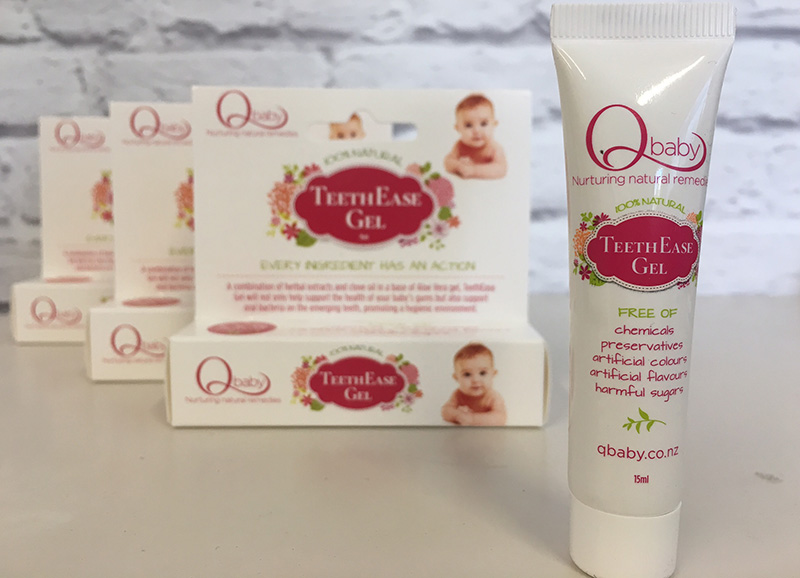 Natural Teething Gel
We are so pleased to finally get this natural Teething Gel, (by Q-baby New Zealand) here in stock at Breastmates.   We have been waiting for a natural product, in a gel form, which is easy to apply with your finger and rub along baby's gums.
The beauty of this natural teething gel – is that all the ingredients are natural, and have a purpose/action by being included in the formulation.  With no nasties (no chemicals, preservatives, artificial flavours, colours or sugars) which surprisingly are included in other gel formulations.
We're always on the lookout for a nice natural alternative like this.   But best of all – it really works!
You'll know when baby starts teething, as they'll be dribbling a lot, flush rosy cheeks, irritable, wanting to chomp down on you when feeding, waking more often than usual and distressed!!!..
Simply wash your hands, squirt a little smear of this natural teething gel onto your finger, and then apply to baby's gums.   It tastes ok – so baby won't mind you applying it, it won't be a battle for this medicine. It won't take long for this gel to come into affect, to help calm your baby.   So easy to use!
Teething won't last forever, you will get through it, but we know that is not much help saying that while you are up having sleepless nights.   You're not the only one up at night!
Good luck!