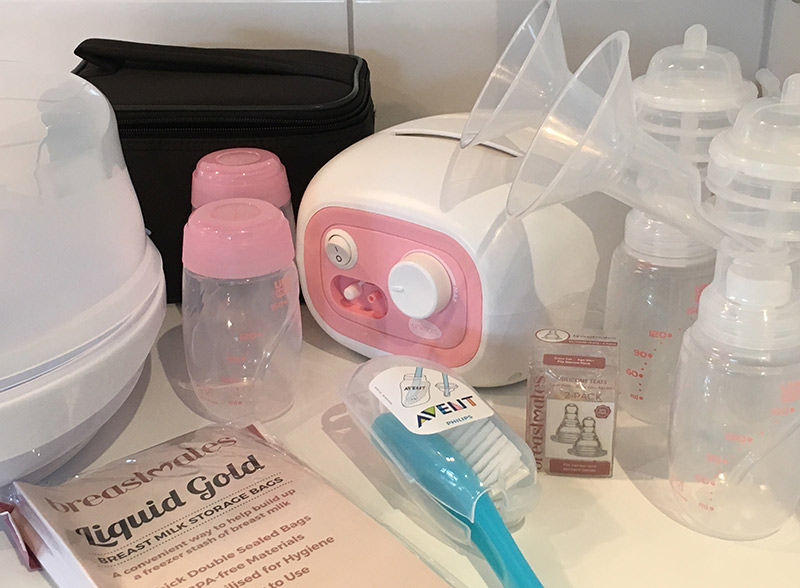 For mums that will be Expressing at Work and considering purchasing a breast pump…….
We know that it gets very confusing trying to figure out how you're going to do it all, and what you need for expressing at work.  The key is to start planning for it early, so that you can get use to using a breast pump and build up a milk supply in the freezer; and also to introduce baby from a bottle early – so that they can learn how to suck and easily switch between breast and bottle teat without drama the day before you leave.  Too often we hear about parents trying to introduce a bottle just a day before going to work – and baby refusing it.  That's another issue, please see our related articles  Baby Refusing Bottle
Plan to express enough breastmilk at work to provide for baby's daytime feeds at daycare.  Before you return to work, just take a note of course of how many times per day baby feeds (during the hours where you'd be at work), then you know how many feeds you need to express at work.
For frequent use, such as 3+ feeds per day, we would recommend the Unimom Forte Breast Pump.  This is a high grade pump, and is very efficient.  It is the most popular one that we sell, because its so suitable for medium to high grade use.  You would even be able to use it for future babies too!  This pump has variable suction control – so you can pump at your own comfort level.  It is reasonably quiet (to consider if you are in an office situation), and its a not too big.  A really great pump.
Some other items that can make life a little bit easier include the  Breastmilk storage bags; which store easily in the freezer.  Use these bags for storage and building up your milk stash.   The Cooler Carrier Bag  a discrete bag which you can take to work and keep your milk chilled during the day.    Plus extra Bottles too of course so that you can rotate them for use at daycare.
If you are pumping at work every day, store your pumped milk in the fridge or the cooler bag mentioned above.   This milk can then go with your baby to daycare for the following day's feeds.   Or you can use the Breastmilk storage bags in the freezer for future use.
Do you have a steriliser?    One handy tip::   when you finish expressing each time during the day, just store all the pump parts in a zip lock bag in the fridge, (or in the Cooler Carrier Bag).   Then wash and sterilize once per day.  You don't have to sterilize each time you use it.    We recommend getting a bottle cleaning brush too, as they have soft bristles and a long and narrow handle that can get right into bottles and get off grimy milk, unlike most dishwashing brushes.
You'll also need to get some bottle teats, so that your baby can drink this precious milk you have worked so hard to express for her.  We do have the Chu Chu teat or the Universal Narrow Neck Teat  where baby has to work and suck just like on a nipple, and helps to avoid nipple confusion.  So you can still have your lovely breastfeeding moments when you are home together.  Both of these teats mentioned will fit the unimom bottles.
If you have already started baby on a bottle and teat, then we'd suggest you just keep using the same teat that she is already drinking from.  Less complicated if you just offer her the same.
Good luck!!    Once you get into a routine, this will be easy peasy.  WELL DONE!
Franny xx