Just sharing this photo when I wore our Blue Lagoon Maxi dress to the recent Waikato Business Excellence Awards.  (Technically I shouldn't put this in the #CustomerLove area on my blog – so you'll have to send me your own photos so that I can add you!)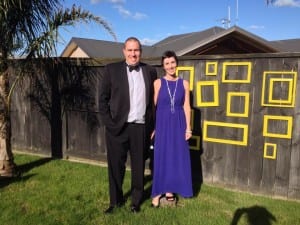 I had a lot of compliments about this dress, the great colour, and the floaty layers.  I felt very fancy!  This dress has a vertical slit at the front bodice with inner layers to move aside for breastfeeding.  But I confess, I actually chose to wear it back to front, because I didn't need the BF openings and so just had the slit at the back.  Multi Use!
When it was home time and chilly in the evening, I added our Multi-Wear cape and configured it to wear like a cardigan.