Check out our new fabric choices for Breastfeeding Covers!
We have some exciting news….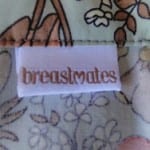 We have been selling nursing covers on our website for the past three years.  We are pleased to notify you that we have brought the business from our previous supplier. So garments will be coming through made with the Breastmates label inside them!
They will continue to be made at the same factory, high quality stitching, cool fabrics, & made in New Zealand o f course.
Breastfeeding Covers are handy because they give you instant privacy to feed your baby.  So you can lift up your clothing to feed, without feeling uncomfortable about other people in the room, and also so baby doesn't get distracted either.
Nursing Covers have a rigid neckline, so that there heaps of room for you (and only you) to look down at baby when feeding. The fabric covers your front and there is plenty t o go aroudn the side. They are adjustable around the neck so that you can open the neckline as much as you need.
You can shop for our breastfeeding covers online