I know that it is tricky to purchase clothing online, specially for breastfeeding clothing designs as you need to be able to see how they open for access.  On all clothing, over the years I have been recording short demo videos to give a quick run-down on how the garment has feeding access.  When I'm designing clothes, I always ensure that the access is easy to use and big enough for boobs.
All of these videos are then embedded on each of the product pages at my store.  We use a nursing mum in the videos so that you can see how they look without a preggie belly.  (Our maternity clothes are photographed on a pregnant model).
There have been over 3 million view of my videos (via the Youtube stats) which is UNBELIEVABLE.  They were all filmed in my garden.  Sometimes my dog gets in the video too.  Here is a pic of my fancy tripod.    And its only recently that that I've figured out how to edit the sound out of videos!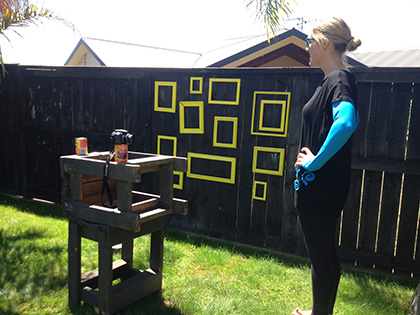 Tripod = garden stools.   A can of beans gets camera to perfect height for this Revive Tunic that Natalie is wearing