Lesson #101: Boobs leak when you're a breastfeeding mama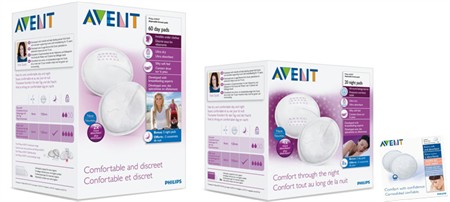 Just a quick chat about breast pads….
Boobs leak when you're a breastfeeding mama.  Its embarrasing having a wet patch on your clothes, and yuck waking up to wet bedding, so you need to use breast pads.  You can choose to use disposable pads, or reusable pads.
We have lots of options of breast pads on our site (including our own brand reusable bamboo ones which are world famous in NZ).
Avent have launched a new range of disposable pads, there are two versions  – day and night.  Disposable  pads are handy to have.  Lots of mums might use disposable and reusables too, just depending on the situation.
If you would like a sample of these breast pads, next time you order anything on our website, at the "Delivery Instructions" box at the shopping cart checkout, just write in a note to say i'd love a breast pad sample too please and we'll send you some.  (While stocks last).
We also have a giveway for this too – enter here
And you can shop online here view all Breast Pads