Huge bargains in this Winter sale. Gorgeous HOTmilk Lingerie save up to 60%…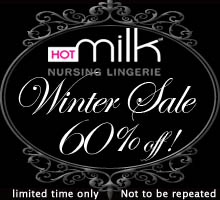 Save 60 percent or more, on lots of styles of bras, briefs, and sleepwear. It's aone-off winter clearance for the HOTmilk NZ warehouse.  Bras $25-ish, knickers $12, camis and sleepwear.
I recommend that you visit this sale page:  HOTMilk and use the "Find by Size" filter on the screen to easily shop for your size.
While stocks last.
We also do have lots of other bras, knickers and nightwear to choose from in our usual maternity section (available in many sizes) Maternity Lingerie
And sorry, strictly no exchanges, swaps, or refunds for these sale items.  I gotta be strict about that.
Enjoy