We asked some mums on our facebook page to share their best tips for using a breast pump in terms of time, quantity of milk and efficiency.   Here are their great suggestions:
** Remember that everyone is different, some mothers may be able to pump a lot in one session and some only 20 mLs, it takes time to build up.   And pumping nothing doesn't mean that baby isn't getting any if also breastfeeding
I found watching 'One Born Every Minute' to be very effective! Ha ha!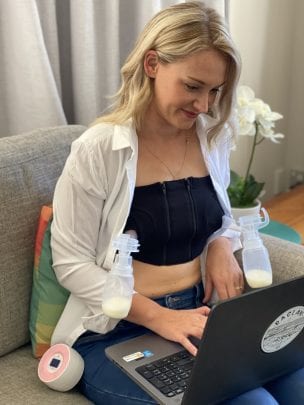 Get a pumping bra – total game changer
Watch videos of your baby if they aren't around. Or watching them sleep hehe
Cover the bottle so you don't see volume, as that can be a mind game
Breast feed then pump straight after while bubs has a cuddle or sits in chair close by. 15min each side double pump if you can.  Good breast milk supply foods
The only way I could pump was with baby on one and pump on the other.
Lean forward and massage the breast towards the pump. Frequent emptying gave better results than longer sessions.
Want to add you normally have way more milk in the mornings so try to pump more in the mornings. If breastfeeding as well, save your evening milk for baby as they tend to cluster feed then (right at cooking/eating dinner time )
Double pump, supplement with capsule forms of galactagogues so you don't have too much extra sugar, hydrate and do power pump sessions using hands on pumping technique.  If you take domperidone be aware it's a stomach emptier so you will feel hungrier than you really are which can lead to unnecessary weight gain (I found that out the hard way)
Ditto frequency over length of sessions. Also drinking way more water than you think. I notice a decline in supply any day I don't drink at least 2l of water but I usually manage 3.
Water, breastmates cookies and baby photos
Double pump=game changer.
I exclusively pump, massage while pumping helps with not getting mastitis, drink lots of water, check your flange/nipple size.
Fenugreek tea and a hot/warm flannel
I had 3 bottles in the fridge, feed one, pump one.
Knead your boob from the top down. A midwife at Auckland Hospital showed me. So with knuckles press in one spot downwards and hold for a min or two. Then move round the breast.
Ben and Jerry's made my milk soooooo fatty and yellow.
Artemis tea was amazing.
Buy a brand new pump, or ensure you buy new parts for a used pump. No point in pumping away if the pump you're using isn't working at is should. And if you've not used one before, you may not even realise it's not working properly so you may think it's you and not the pump!    (Breastmates stock all the breast pump spare parts here)
GOOD LUCK  and remember that us here at Breastmates are here to help with your pumping journey.
Franny x