Many women are not aware that breast pump shields come in different sizes, and that there is a lot of variation of nipple sizes – regardless of breast cup size.  Having the wrong size shield can cause discomfort, and limit the amount of milk you can express.  Make sure you use the right breastshield size.  It is an essential component of effective pumping, helping to optimize milk flow.
How Your Nipple Should Look While Pumping
A handy schematic video to show how your nipple should look while pumping.   Unfortunately this is really one of those things that you'll find out after you start trying.

Choosing the right Breastshield size for your Medela Pump
Pumping should not hurt.   For maximum comfort and pumping efficiency, Medela pumps have five breast shield sizes available to suit all women.  This guide below is a starting point, to help you determine your optimal shield size based on your nipple diameter.
Step One: This can be difficult, but use a ruler or measuring tape,  to get the diameter of your nipple at base (across the middle), do NOT include areola.  Measure in mm.  Please refer to diagram below.
Franny's Tip: Use a piece of string to go around the circumference of your nipple base.  Then measure this against a ruler.  Apply some maths : circumference divided by PIE (3.1417) will give you the diameter.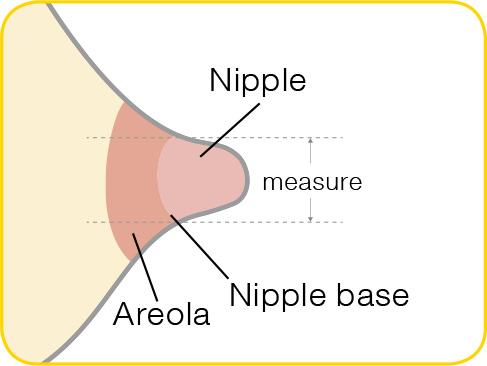 Step Two: Based on your diameter measurement, determine the Breastshield size based on the diagram below.    For example, if your nipple size measures 16mm diameter, the recommended Breast Shield size is 21mm.

Our range of Medela PersonalFit Breastshields are available online here  Flex Breastshields Here  and Unimom Flanges Here
Test Your Breast Shield Size
Centre your nipple and gently hold the breast shield against your breast.   Adjust your pump settings for maximum comfort vacuum to achieve optimum suction level.   Refer to the images below, while pumping in the expression phase (after the pump stimulation phase).    Compare your nipple with these images to assess your fit.

Reasons to Try a New Size
* Does your nipple rub the tunnel sides to the point of causing discomfort?
* Do you see excessive areola being pulled into the tunnel?
* Do you see redness?
* Is your nipple or areola turning white?
* Do you feel unexpressed milk after pumping.
If you answered YES to any of these questions, consider trying a new size by following the measuring instructions above.  Our range of Medela Breastshields are available online here
Did you Know?
– You may need a different breastshield size for each breast.
– your breastshield size will also depend on your breast tissue and skin elasticity (so see how your nipple looks when you test the size as per the images above).
– Your breastshield size could change over the long term duration of your pumping experience
– When you apply vacuum pressure, your nipple size should change.
– Pressing the breastshield too hard could block milk ducts
What to Buy
If you have any doubt, please just email us, as this really gets confusing particularly with all the models and different brands.   We can help