PLEASE send me your photo!! I love to see my customers wearing clothes from my store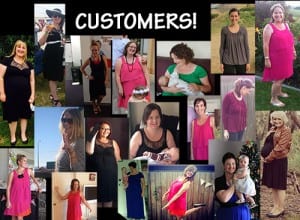 If you are purchasing clothes from my website, I would truly love if you could send me a photo of you in your new outfit…..
Because Breastmates is an online business, I rarely see real customers as most orders are sent via the courier.  So I never get to see people wearing my designs!  Shame.
Take a selfie!
Perhaps you are buying one of our dresses to wear to a wedding – then SEND me a pic when you are glammed up for the event!!
I don't really want underwear photos, unless you take a creative shot on the clothes line.  hehe
I would like to make another collage of little thumbnails of you all!
Thanks
Franny