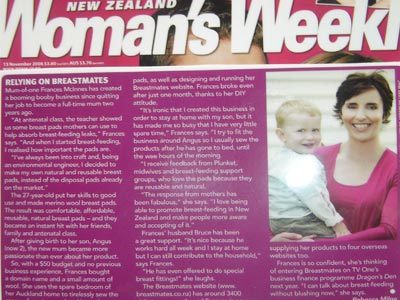 13 November 2006
NZ Women's Weekly
An article in the New Zealand's Woman's Weekly about being a Work-at-Home-Mother (WAHM) running a website business from home.  Read below for the full story….
By Rebecca Milne
"Relying on Breastmates
Mum-of-one Frances McInnes has created a booming booby business since quitting her job to become a full-time mum two years ago.
"At antenatal class, the teacher showed us some breast pads that mothers can use to help absorb breast-feeding leaks," Frances says.  "And when I started breast-feeding, I realised how important the pads are.
"I've always been into craft and, being an environmental engineer, I decided to make my own natural and reusable breast pads, instead of the disposable pads already on the market."
The 27 year old put her skills to good use and made merino wool breast pads.  The result was comfortable, affordable, reusable, natural breast pads – and they became an instant hit with her friends, family, and antenatal class.
After giving birth to her son, Angus (now 2), the new mum became more passionate than ever about her product.  So, with a $50 budget and no previous business experience, Frances bought a domain name and a small amount of wool.  She uses the spare bedroom of her Auckland home, to tirelessly sew the range of merino wool and hemp breast pads, as well as designing and running her Breastmates website.  Frances broke even after just one month, thanks to her DIY attitude.
"Its ironic that I created this business in order to stay at home with my son, but it has made me so busy that I have very little spare time," Frances says.  "I try to fit the business around Angus so I usually sew the products after he has gone to bed, until the wee hours of the morning.
"I receive feedback from Plunket, midwives and breast-feeding support groups, who love the pads because they are reusable and natural.
"The response from mothers has been fabulous," she says.  "I love being able to promote breastfeeding in New Zealand and make people more aware and accepting of it."
Frances' husband Bruce has been a great support.  "It's nice because he works hard all week and I stay at home but I can still contribute to the household," says Frances.
"He has even offered to do special breast fittings!" she laughs.
The Breastmates website (www.breastmates.co.nz) has around 3400 visitors per month, and Frances is now supplying her products to four overseas websites too.
Frances is so confidents, she's thinking of entering Breastmates on TV One's business finance programme Dragon's Den next year.  "I can talk about breastfeeding without blushing now," she says.