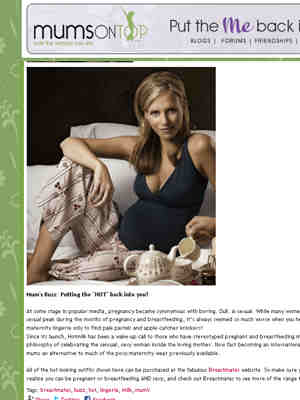 November 2008
A review of our HOTmilk Lingerie on the Mums On Top website, showcasing the HOTmilk PJs
Review of our product as featured on MumsonTop
Mum's Buzz: Putting the "HOT" back into you!
At some stage in popular media, pregnancy became synonymous with boring. Dull. A-sexual. While many women don't feel at their sexual peak during the months of pregnancy and breastfeeding, it's always seemed so much worse when you head to the store to buy maternity lingerie only to find pale pastels and apple-catcher knickers!
Since its launch, Hotmilk has been a wake-up call to those who have stereotyped pregnant and breastfeeding mothers with its philosophy of celebrating the sensual, sexy woman inside the loving mother. Now fast becoming an international leader, HOTmilk offers mums an alternative to much of the poxy maternity wear previously available.
All of the hot looking outfits shown here can be purchased at the fabulous Breastmates website. So make sure you lift your spirits, realize you can be pregnant or breastfeeding AND sexy, and check out Breastmates to see more of the range from HOTmilk!