Hotmilk Sexy Maternity Lingerie – in the media
July 2007
I sent out a newsletter to my Breastmates Newsletter subscribers (people who had requested to receive a newsletter from me about our website's freebies, sales, giveaways etc). That edition of the newsletter was informing customers about the gorgeous range of Hotmilk sexy pregnancy underwearand sexy maternity bras that we had started to sell.
I was really surprised to receive a few complaints from customers – saying the images were "inappropriate" and "verging on soft porn". Oh my goodness – what pregnant or new mother wouldn't want to be notified about this new lingerie we were selling? Its such a huge improvement on the old boring granny-style of black, white or beige. What do you think of these shots?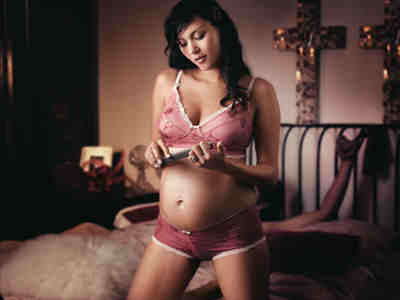 Mothers these days want a bit of glamour rather than the old-fashioned granny style of nursing bras in the stores!! (myself included!)
So we asked the question – was it because the lingerie models were pregnant that people couldn't handle the marketing shots? I guess so. But why can't pregnant women look sexy? And why can't breastfeeding mums have nice undies?
I have included the maternity lingerie photos in this page – these sexy lingerie for Yummy Mummy's styles were from the first HOTmilk season.
The story then featured in the Sunday Star Times and regional newspapers around New Zealand and finally the manufacturers were interviewed on theJohn Campbell news show on TV3. Several blog writers around the world also have mentioned this news story and its links to Breastmates! Of course we loved this fantastic exposure of this gorgeous range of maternity lingerie!
Bare in mind that it was only a few people that complained – not the whole nation. So dont think all New Zealanders are such prudes!
Our Breastmates product's are now world famous.