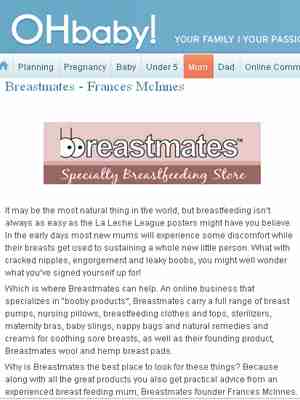 2007
Work At Home Mom (WAHM) feature in Oh Baby
Here is a copy of the words that Oh Baby wrote about us:
It may be the most natural thing in the world, but breastfeeding isn't always as easy as the La Leche League posters might have you believe. In the early days most new mums will experience some discomfort while their breasts get used to sustaining a whole new little person. What with cracked nipples, engorgement and leaky boobs, you might well wonder what you've signed yourself up for!
Which is where Breastmates can help. An online business that specializes in "booby products", Breastmates carry a full range of breast pumps, nursing pillows, breastfeeding clothes and tops, sterilizers, maternity bras, baby slings, nappy bags and natural remedies and creams for soothing sore breasts, as well as their founding product, Breastmates wool and hemp breast pads.
Why is Breastmates the best place to look for these things? Because along with all the great products you also get practical advice from an experienced breast feeding mum, Breastmates founder Frances McInnes.
It's no co-incidence that Breastmates is the same age as Frances' son Angus – it was whilst breastfeeding him 2 years ago that Frances spotted a gaping hole in the market. Sure, you could buy breast pumps, nursing pillows and other breastfeeding products from nursery retailers, but there was no specialized outlet providing both products AND support.
"I'm not just a salesperson," says Frances. "I'm a mother; I've breastfed my own son. I know what works and what doesn't. And I can give mothers advice and encouragement to help them not only breastfeed, but enjoy breastfeeding."
Frances runs Breastmates from home, an arrangement which means she is still able to spend precious time with Angus. The lower overheads of a home business mean that Breastmates is able to offer products even cheaper than many of the bigger retailers. In addition, they are able to offer innovative new products from overseas such as Lily Pads silicone breast pads, Mothers Minder feeding bracelets and Booby Bib absorbent night shirts.
It also means that Frances is available outside of usual retail hours.
"I often get late-night calls from mums who urgently need my products," says Frances. "It's awesome to have contact with so many mums, and to be able to help make their lives just that wee bit easier!"
If you're looking for breastfeeding products, advice and support, for an original and creative baby shower gift or a gift voucher, check out www.breastmates.co.nz.