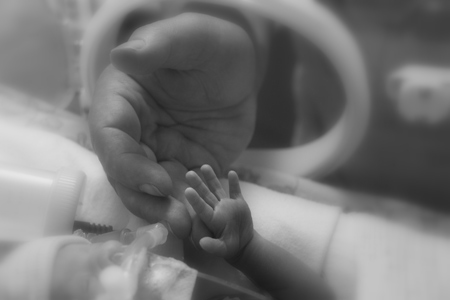 We asked mums on our Facebook page to share their stories if they had been through NICU before bringing their baby home. Here's what they said
***
A short stay for us, but scary still. I really don't know how mums whose bubs are there for a lengthy stay cope – strong, strong women
****
Spent 5 weeks in the NICU after my son was born at 30 weeks. We were transferred from Auckland Hospital, to Middlemore and then to Waitakere. The staff at all three NICU's were supportive and caring.
****
We've been home a week and a half after 11 days in SCBU- we had CPAP, lights (twice), IV's in every possible place as the line kept blocking… It was certainly not how I expected my little man to enter the world, and leaving him at night after I was discharged was the hardest thing I've EVER had to do (cried many buckets of tears every night while I drove home). But the nurses and midwives at North Shore SCBU were utterly amazing, and cared for him like he was their own child. Those amazing women made me laugh when all I wanted to do was cry. There is an end, and it's hard to see the light at the end of the tunnel while you're there, but you do eventually go home and it makes you so grateful to have your bub with you. We are very lucky having the support we have in NZ
****
Our first baby was born at 28 weeks. We spent 4 weeks in Akld Hospital NICU and 6 weeks in North Shore SCBU. Both experiences were really good and the staff were amazing!! Although he was only 2lb 12oz when he was born, our boy is now a big 6 year old who is excelling in school you would never know he was a premmie. It's a hard journey, but is so worth it!!
****
Both my sons have been prem. First at 32 weeks and second at 33 wks +4. I actually went into labour with my second at 28 weeks and they managed to hold him off for a few weeks. The first couple of years I found they picked up EVERYTHING and were sick very often. Once they hit about 2 to 2.5yrs that seems to stop. They are both very happy, healthy, handsome wee guys now nearly 3 and nearly 5
***
A wonderful silver-lining about staying in NICU is that when you go home every night from the hospital, leaving your baby behind, you know that you have the best possible "babysitters" looking after them… Mums – don't forget to use this time to look after you as well, eat properly, rest as much as you can and learn from the nurses/Doctors and support staff. Learn to feed baby and handle your baby with confidence…they are there to help you too.
***
Had 2 babies visit NICU… the staff there really are angels, writing daily stories about my wee ones milestones, taking photos, so caring & loving of my babies and our family at a very scary, confusing and difficult time ♥♥♥
****
Baby 3 – 2 weeks in NICU, Baby 4 – 6 weeks in NICU. Baby 5 – 167 days in NICU. Trying to stop baby 6 ending up in NICU – have a stitch in and so far made it to 27 weeks
****
My middle child was born at 30weeks, spent 2 days in NICU but 5 weeks in SCBU. Definitely very emotional time. I hated leaving her side each night but I also struggled a lot as I was leaving my 2yr old son every day to sit in scbu with my girl. But all the nurses are fantastic and Ur child has the very best care. The nurses used to hold my girl and sing to her if she was crying they are like mummy's with wings
****
25 weeks our little girl arrived, one heart op and 5mth in Waikato awesome care, very thankful to have our little girl now 8 with a big heart and huge smile
****
Our twins were in NICU for almost a month, after being born at 33 weeks… they had CPAP, 'sunbeds' twice, etc etc… and it was amazing how I got used to them taking blood… I even got to the stage where I could hold their foot while they did it! (I paced the nursery crying the first time!) I can't sing the praises of Waikato NICU enough – the staff there are amazing, as are the other mum's you meet there… the 'milking room' was always a great place to chat and get a bit of a boost, hearing other mum's stories seemed to make me feel a bit better – knowing others were going through the same things as us. The day I got discharged and had to leave them over night was the worst night of my life! But, as many have said, they were in the best hands, and it did get easier after a few nights (they also don't mind you ringing in the middle of the night just to check everything's ok :p) 6months on, I look back at the photo's now of them in NICU, and it all doesn't seem real… I have tears in my eyes now just thinking about it! But they are the most amazing little people, and worth every minute of sleep you don't get lol! xx
****
The one thing I found was that everyone assumes that being in NICU means you had a premmie, which is not the case. We spent 2wks in Waikato NICU as a 40+6wk baby. The ladies in their were awesome at helping me with breastfeeding and really pushed to express for when he was allowed to feed, we had to go the first wk of no feeding then the next 2days of letting him suck a syringe. Their patience and help was what got me through having a new baby, it also gave me a chance to rest and the long walk from my room to NICU helped with loosing baby weight faster than if I had of just gone home. nearly 6yrs on and we still go back to Waikato often for ops, but that time in NICU has helped with leaving him and I'm not so upset now when I have to leave him with others. It definitely makes you a stronger parent and can help you support others more when they go through it.
****
This is my wee bubba (in the above photo) and my twins were born at 31 weeks so we are very familiar with NICU Auckland and Middlemore. It can be overwhelming at times but you can't help but be amazed at the wonderful care and attention that is given and how lucky we are to have some of the best teams in the South Pacific. And thankfully before you know it your beautiful babies eventually thriving and then are home and you almost forget sometimes what a fragile time they had at the start. We can never thank NICU enough for caring and sharing our babies first weeks. And thanks to Aunty Tracey for being there as soon as they arrived to capture these moments when thy first came into our world. Mila and Luca will thank you too one day!
****
Our first spent 9 weeks in Akld NICU after being born at 32 weeks with cancer, he had all his chemo there and we couldn't thank all the nurses enough when we got to take him home before he lost his battle at 5 mths old. We popped in after the birth of our 2nd just to say hello and let them know that we were ok and had had another beautiful healthy baby boy.
****
My second daughter spent a night in Perths children's hospital NICU – before that she had had 3 nights in the special care nursery unit at the hospital I had her and another night there after she came back from NICU. Hardest part about her being in the NICU was that I was still at the other hospital and couldn't even see her at all. At least while she was in special care unit I could see her and was eventually able to even have her out of the humidicrib/isolette and breastfeed and have short holds.
The nurses in special care are just amazing and the one I met from the NICU unit who brought my baby back was no less amazing. They are so loving and kind and patient – with both the babies in their care and the parents of those Bubs!
****
A short eight day stay for us in NICU with full-term baby boy born with pneumonia. Going home without him was so very hard but unlike many in NICU we were only there for such a short time. So very grateful for the wonderful staff at Wellington NICU who were just amazing. I think of our stay there often and give thanks to the wonderful caring people that look after those precious little lives.
****
5 weeks in NICU Auckland then Middlemore for my 1st, born at 33 weeks (he had stopped growing). You have to live day by day, very stressful and tiring but the staff has been great, very supportive and helpful. My son is now almost 3 and you wouldn't know he was so prem. Good luck to all the families in NICU at the moment, it is so worth it ! Our little ones grow to be so resilient.
****
My little girl wasn't in NICU but she was in the Children's ward at Wellington hospital for 2 weeks from 2 days old. She was born in hospital, we went home the next day and the day after she stopped breathing. We had to wait over 20 minutes for an ambulance (we live out of town and the local ambulance was already busy). Luckily I had been concerned that baby was lethargic and had asked my midwife to come over and she had oxygen in her car. Apparently because we had left the hospital we were sent to the Children's ward not NICU. There were good things about being in the Children's ward, like I could stay and share a room with baby. But it was also very hard because the nurses in the Children's ward do not look after the babies so I had to stay 24/7 and could barely even leave to make a cup if tea, and to make that even more impossible
****
they don't provide food for parents so I had to ask my friends to bring me food each day. My husband came to visit everyday but it was hard because we had a boy at home who had just turned 3 and we live about 60km from the hospital. It was also very hard to get breastfeeding established because baby was on a drip for 5 days and not feeding and of course it was a very stressful situation. Luckily we got there in the end although she had a nasal gastric tube in for the first month or so. It's hard enough looking after a newborn normally and it was even harder in a hospital while worrying the whole time about whether my baby had some debilitating disease or would live or die. Plus it is horrible watching a tiny baby put through painful and stressful tests. Luckily she is 6 months old now, beautiful and seemingly well.
****
2.5 weeks in NICU Auckland then Middlemore for our son who decided to come early. All the staff were great and really helpful at a pressured time when, as new parents, we had no clue what we were doing. With the great help and support of the NICU staff, and then Home Care Nurses, we learnt quickly and our son thrived – help we wouldn't have received had he arrived on time. So while I wouldn't choose for this to be the way he came into the world the silver lining has been the support and knowledge we received from these amazingly dedicated professionals as we started on the parenthood journey. Yay for the NZ health system.