Linda shares her birth story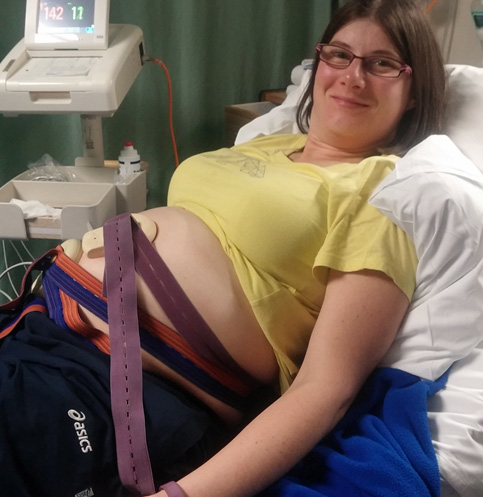 So this was me on Wednesday evening after being told earlier that day I needed to be induced at 38 weeks as my placenta had stopped working and our little boy would be better outside than in as he was considered IUGR (growth restricted). My whole pregnancy had been non eventful until my midwife said my stomach measured small and I was sent for an extra scan.
I'd been called in to see the specialists that morning for review and told I had to come back at 7pm that night, couldn't do Thursday night they were booked, and Friday and Saturday were out not enough staff and Monday was to long to wait. So we went had a nice late lunch at La Porchetta, then called into the Warehouse for last minute things before heading home too wait till it was time to go back.
Induction started later that night and my partner went home to rest and sort the cat and dog out. He'd not long gone to bed before I had to call him back about 1am, induction didn't really work so was stopped (not very dignified trying to get that stuff out haha). Roll on about 5.30am and things not going well so I'm told I need a c-section, it's all happening very quickly!
On the way to theater things changed and I ended up natural birth in a room full of people, midwife missed it by about 30 seconds and so did the poor student who was following me!  Lucas was delivered by the surgeon at 6.19am, (5lb 7) and then sent to the NICU with his dad following close behind!
We spent a few days in NICU then back to the ward, over all 9 says in hospital due to my BP spiking way to high!
Currently pregnant with number 2 this one a girl, we have 5 ish weeks to go all going well! Hopefully not as dramatic this time round,
Linda