Breastmates is New Zealand Stockist of Avent Breast Pump Parts
We're the New Zealand stockist for Avent breast pump parts.  We try to keep these parts in stock at our warehouse in the Waikato so we can ship quickly to keep you pumping!  We know how important it is to keep pumping, to keep up your milk supply.  And it's frustrating if you have lost a piece, or something like a valve has worn out.  Or maybe the puppy chewed them!
Avent Parts – all models
There are quite a few different models of Avent pumps, and the parts are NOT all interchangeable.  To try and make it easier for you, we've bundled all the different models into easy shopping pages on our website here:   Breast Pump Parts so you just need to match the pump model you have – either by name or by looking at the motor images; and then read the webpage to find what parts are missing, and you can order them from us.   Rather than scrolling through all the different pieces.   Or if you have any doubt – just contact us and we can figure it out for you before you shop.
Avent Single Electric Breast Pump Parts
The most recent addition to Avent's range of breast pumps is the "Avent Single Electric Breast Pump" and "Avent Double Electric Breast Pump"  so I'll describe them below and you can click to our website to purchase.  (These new pumps are also known as the Eureka).
First check your model looks like the item in the thumbnail.   The motor is the most distinguishing feature, as the models have different sizes and different colours, or a different way of connecting the motor and breastshield.  Check that it looks the same.   The picture below is the Avent Single Electric Breast Pump and you'll notice it has a rectangular-ish shape motor which is pink colour, and the motor connects to the bottle with a tube.  Use the main image as the guide so that you know you are shopping for the right pump model.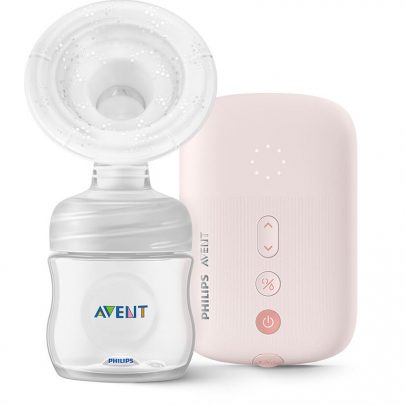 Then on our website spare parts "Bundle Page" for "Avent Single Electric Breast Pump Parts" we will have a diagram of all the individual pieces and code so that you know which is what.    You can shop for them on the bundle page, or click on each link to see each item in more detail.
We're just trying to make it easy to help identify what you need.   YES it is confusing.   And more so because not all the Avent parts are compatible with earlier models of Avent, so you need to know which model you have.   Even if the pictures look the same, they are slightly different shape pieces.   That's why everything has a unique name/code and we list them individually on the website.
Just use the diagram to work out what you have, what is missing, and what parts you need
KEY:
A: Tube Module (includes plastic cap and tube combined)
D: Tab Valve
G: Single USB charger or Double USB Charger if you have the double pump
We have repeated this for all Avent Parts – a bundle shopping page with diagram and key.     Other models include: Avent isis manual, avent isis iQ Uno, Avent Duo, Avent Comfort Manual, Avent Comfort Electric, Avent Single Electric, Avent Double Electric  === so many parts that are not interchangeable.   Thats why we list them all as bundles here
Breastmates