A customer wrote to us recently asking about bottle brands compatibility, about the sizes between different brands and if they are interchangeable for the pumps and teats etc.   I think this is a common question when parents are figuring out which baby bottles to buy.
Perhaps this inquiry is the same question you were wondering about interchanging bottles, or bottle brand compatibility….
"We are interested in the Unimom Forte breast pump – can we connect the Unimom Forte to Tommee Tippee bottle systems – we were thinking of the "Express and Go" system for the bottles and feeding bags.  Also my husband is keen on the Avent bottles , but I worry that you can't put any narrow neck teats on that"
Yes bottle, teat and milk storage systems can get very confusing.  Especially when different bottle manufactures have different sizes, or if you want to use a specific type of breast pump which might have been recommended to you, and then you have to figure out which bottles that is compatible with.
When talking about bottle sizes, they are usually either called Wide Neck, or Narrow Neck – this refers to the diameter of the opening of the bottle.  As follows:
Unimom brand is narrow neck
Medela is narrow neck
Avent is wide neck
Tommee Tippee – Closer to Nature –  is wide neck
*Tommee Tippee also have a narrow neck range in their classic editions!
Nuk is narrow neck
So both the Tommee Tippee Closer to Nature &  Avent bottles will NOT fit directly onto the Unimom Forte pump.    Unimom is narrow neck (the diameter is actually 3.8cm).   You could either pump with the Unimom bottle that comes with the pump, and then pour into your Tommee Tippee bottles for storage.
Or we do have a "wide neck adapter".  So you screw this to your Unimom Forte pump, and then you can attach the wide  bottles at the bottom. This is a very simple way to interchange between bottle brands and sizes.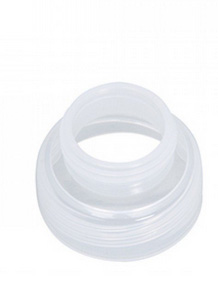 You can view the Wide Neck Bottle Adapter on my website here https://www.breastmates.co.nz/wide-bottle-neck-adapter
Please note that Unimom and Medela bottle sizes are interchangeable.
The Unimom Forte pump, in my opinion, is the best working double pump available on the market at such a competitive price.  It is worth a little jiggling around with a wide neck adapter (or pouring into your other bottles) so that you can use this great pump.
Alternatively, you could just stick to the Unimom brand, and use Unimom Bottles and Milk storage bags and then you don't have to worry about bottle compatibility.  Staying to the same brand does really make things easier.