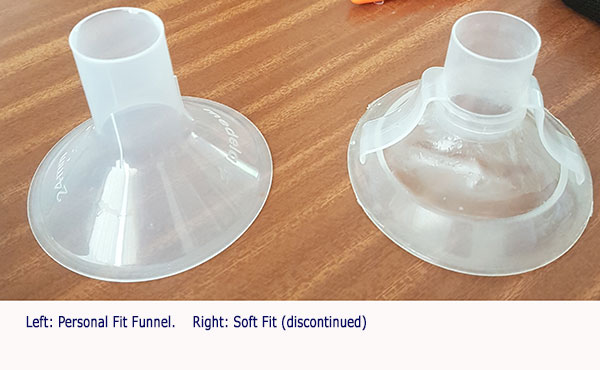 A Medela Breast shield ::  Personal Fit compared to the Soft Fit Breast Shield
Question recently received from a customer:  i was just wondering if you had a different version of the personal fit funnel / medela breast shield.  I was trying to order a replacement for the one I have currently which gotten warped and the plastic seems to be deteriorating.  It's different to the breast shield I have received from you however.  It had more of a silicon feel to it.  Was it a Soft Fit Breast Shield?  I have attached a picture of the one I ordered from you (left) and also the one I am trying to replace (right).  Do you have any of these in stock?  Is it possible to find the replacement for my current soft  breast shield?
The original one you have is called the medela "Soft Fit Breast shield" which would have come in the box with your pump several  years ago.  They have stopped making them anymore, discontinued in about 2010,  and there are no spare parts remaining for the Soft Fit Breast Shield.
Thesedays all medela breast pumps come with the harder plastic breast shield in the boxed set, like the one you have purchased as a part.  We have them available as spare parts here:  Medela Breastshields – they come in sizes S to XXL to fit your breast and nipple shape.    We have another article here, to help you decide what size breastshield you might need (most people are M) Choosing the right Breastshield Size