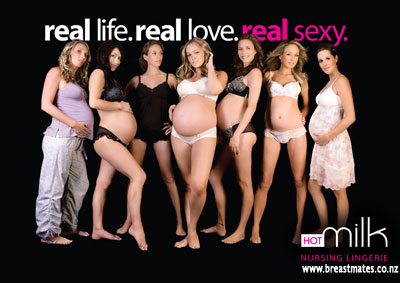 HOTmilk Lingerie is a global leader in sexy maternity lingerie, who support and encourage breastfeeding wherever possible. Breastmates have been strongly aligned with HOTmilk for several years now, and are the premium and first online store that you can purchase HOTmilk lingerie for worldwide delivery.
There is a need for pregnant and breastfeeding women to look and feel gorgeous – regaining your femininity is paramount!  Celebrate your curves!!
Why do we love HOTmilk so much?
The maternity lingerie options that we stock range from sizes 8A to  20H cup
The designers use technologically advanced fabrics
Bras have adjustable straps & one handed maternity clips
There are  six back adjusters to allow for expansion of the bust and diaphragm
Narrow or Wide Straps depending on whether you purchase small cup size or full cup size
Top of the line styling and fashion trends
HOTmilk Lingerie allows you to retain an exquisite silhouette right through your pregnancy, all without the use of underwire. Sexy, fashionable styles, decadent detailing and luxurious colours all epitomise the HOTmilk look.
The HOTmilk lingerie are the styles that we love, that we recommend, and that our customers love too!  That's why we are so loyal to this brand.
All of the lingerie is tested by pregnant women, nursing and non-nursing women.
Choose HOTmilk Lingerie – because we know small things make a big difference!
Here at Breastmates we are first to receive all these styles, so you can trust us on that.  Hotmilk headquarters is only 45 minutes from us.  Or you can sign up to our newsletter and Facebook page to be alerted when new styles are available.
You can see our current available styles here  HOTmilk Online
Plus we have a no-fuss returns policy (which applies worldwide) for non-sale items.