There is no need to be without diamantees and satin in order to achieve  smooth, seam free silhouette enhancing nursing lingerie….
It is with pleasure that Breastmates now stock the exciting new range from HOTmilk  "essentials the sexy choice" available up to H cup.
Having spent a great deal of time researching what a pregnant or nursing mother needs or wants, these essential bra sets and fantastic new shapewear garments were developed using superior fabrics and the latest technology without compromising on fashion and that sexy HOTmilk point of difference!
Essentials are ongoing styles, and we will always have stock available.  Our customers are women that are pregnant or nursing for a short time, so we understand the importance of having a full size selection.
These bra and matching underwear sets are the perfect complement to our other HOTmilk fashin styles available online at Breastmates.  The exquisite, yet practical palette provides colours we wear on a daily basis, natural colourways and staples in blacks, always in season, always in demand.
Have a look at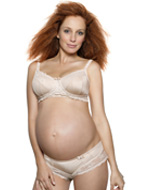 You can view the current range of HOTmilk Lingerie Online here at Breastmates