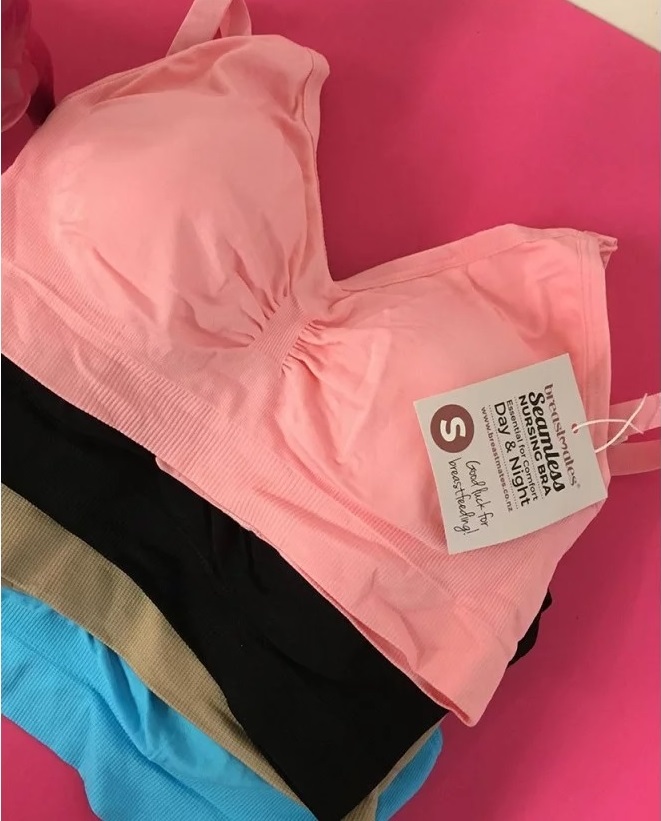 When you're pregnant for the first time and you're thinking about buying maternity clothes, you might be wondering just how maternity clothing sizes work. After all, how do you know how much your shape will change as your pregnancy progresses? And even if it's your second or subsequent pregnancy, your body might not grow and change in the same way as during the first pregnancy. So should you just buy clothes that are oversized and hope for the best?
How do I know what size maternity clothes I should buy?
Pregnancy shopping hack #1: Buy the same size you usually wear.
Here's the easiest thing to remember about buying  maternity clothes: Buy the same size as you wear pre-pregnancy. Almost all maternity clothing is sized the same as "regular", pre-pregnancy clothing. So if you wear a size M in regular clothes, chances are you'll wear a M in maternity clothes. The difference? Maternity clothes are designed to suit a pregnant body, with room for your bump to grow, or draped fabric that will be flattering throughout pregnancy and beyond. If you're still unsure, just contact the friendly team at Breastmates and ask for advice. Or you can purchase two sizes and return the one that doesn't fit with our no-fuss returns policy.
Pregnancy shopping hack #2: Check the size guides for the brand you're purchasing.
Although it's true that most maternity clothing is sized the same as pre-pregnancy clothing, it's still important to check the size guides for the items or brands you're buying. Because we all know that a M in one store is not the same as a M in another store! It's best if you know what numerical size you wear and how that corresponds to an alphabetical size (for example, a M in Breastmates clothing is a size 12). Also remember that sizes of clothing made overseas are different from NZ sizes. So do your research and know what size you're actually buying.
Pregnancy shopping hack #3: Measure your bra size.
If it's been a while since you had your bra size measured, pre-pregnancy (or early pregnancy) is a good place to start. Buy your first maternity bra based on your regular bra size, and know that you may need to buy another bra in a larger size as your bust increases. Measure at around three or four months (at the beginning of the second trimester), and then again at around 36 weeks of pregnancy. Many women increase one to two band sizes, and typically one cup size during pregnancy, and the only way to know is to measure. Hot tip: Maternity bras have more hooks at the back compared to regular bras, so there is a bit of a crossover between band sizes. You can use our measuring guide here: Bra Measuring Guide
Pregnancy shopping hack #4: Don't buy clothing or bras to "grow into".
Buying maternity clothing or bras that are too big in order to "grow into them" is a bad idea. You don't know how your pregnant shape will grow and change over time, and every woman's pregnancy is different. Bras especially will be uncomfortable and unsupportive, and clothing won't be flattering and may not fit properly. And remember, the maternity wear you buy can be worn post-pregnancy too – if it is the correct size, it will fit your changing body well during pregnancy and beyond, and you will get a great deal of wear out of it.
Pregnancy shopping hack #5: Buy clothes for the season you're in.
When it comes to maternity clothing, it's best not to try to buy for seasons ahead, as you don't know how your body will change over time. Buy clothes that suit the season you're in, so if it's summer and you're pregnant, you'll want to buy maternity clothes suitable for wearing in summer. By the time winter comes around, your baby will have arrived, and you can use your summer clothing as layers. A summer dress looks great with tights or leggings and a cardi or jacket. If you're pregnant in winter, invest in some winter maternity clothing, like a warm hoodie or long-sleeved jumper. You'll still get use out of these styles by the time warm weather rolls around, as you might want to throw on a hoodie in the evening if you're at a summer BBQ, or layer up with a jumper if you're outside watching New Year's fireworks.
Pregnancy shopping hack #6: Choose quality pieces that will last the distance.
Many pregnant mums-to-be go for the cheapest maternity clothes, reasoning that they'll only wear them for a few months. But the truth is, quality maternity clothing lasts through pregnancy, breastfeeding, and post-baby wear. Your body changes during pregnancy, and it won't necessarily be the same size (and clothes might not fit the same way) after your baby is born. Maternity clothes are designed to grow with your body, and to flatter post-baby figures. So you'll get lots more wear out of them if you invest in quality, well-made items. Also, you'll be able to save them to wear for your next baby, too!
Pregnancy hack #7: When in doubt, return it, and try again.
Don't forget that Breastmates has a no-fuss returns policy. So after your parcel of maternity clothing arrives, if you find that something isn't quite perfect, you are welcome to send it back. So you can shop from home in privacy and comfort (a godsend when you have morning sickness or you're too tired to face the shops!).