The thought of a summer pregnancy is enough to leave most mum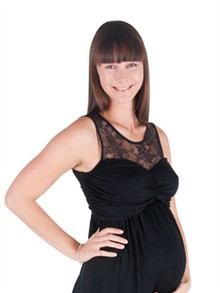 s-to-be feeling a little anxious. Swollen ankles, hot flashes, water retention, and heat rash are only a few of the miseries pregnant women experience when the weather's warm. But a summer pregnancy wardrobe can help keep you cool and comfortable, especially with Breastmates' range of simple, sweet and stylish summer basics. Vital for any pregnancy wardrobe, are an essential part of staying refreshed and relaxed during a summer pregnancy.
Summer maternity clothing should provide ultimate comfort suitable for all stages of pregnancy, whether you're newly pregnant or close to your delivery date. Choosing the right fabric, fit and style impacts on how you feel, both physically and emotionally, and can be the difference between sweaty misery and cool comfort.
Starting with underwear, the focus is on breathable cotton to ensure your skin stays cool and dry. A set of low-rise knickers and a wire-free cottonmaternity bra will keep you feeling fresh.
Ideal for layering or wearing on its own on hot days, as well as providing additional comfort and support, add a long-length singlet, camisole, or strappy tank in summer's most stylish colours.
Soft and light figure-hugging T-shirts accentuate your bump and look great with a swingy skirt, but if you prefer non-clingy styles, try a tunic or dress to give your skin space to breathe. Breezy summer maternity dresses, wrap dresses, and tunic dresses are lightweight and designed to allow extra room for a growing belly. They're also ideal for those first few weeks after your baby is born.  Elegant and comfortable, in sleeveless, short-sleeved or tank-top style, they come in a variety of stylish prints so you don't have to sacrifice fashion just because you're pregnant.
If you're not against showing off your legs, a pair of capri-style yoga pantsare ultra-comfortable. Dress them up or down depending on the occasion. The stretchy waistband can be pulled up over your bump or rolled down to your hips to keep you cool. They're also super-stretchy, promising comfort and room for growth.
For a casual evening event, a pair of lightweight bootleg or loose-fitting maternity jeans with a block colour form-fitting or empire-waist top looks great and feels comfortable. Add a chunky necklace or dramatic scarf, and pair with heels and an oversized handbag for a touch of celebrity glam!