Buying maternity clothes should be a fun and enjoyable process – to celebrate your body – and we'll make you feel pampered when you receive your parcel.
Buying maternity clothes should be a fun and enjoyable process – and you should feel pampered and special when you receive your parcel. And of course you should feel gorgeous when you finally get to wear your new items.
You shouldn't encounter any problems or issues when buying maternity clothing, especially from a trusted brand and well established retailer like us here at Breastmates. If you're shopping online it's a good idea to double check whether sizing guides are available (as various brands have different sizing classifications).
How to choose the correct size
In general sizing is based on 10, 12, 14, 16, 18 or alternatively S, M, L, XL, XXL. Sizings are usually based on standard pre-pregnancy sizing with a special maternity design built-in to accommodate your belly.
So for example, if your usual size is Small (that is before you got pregnant), then you would generally be a size Small when purchasing maternity clothes.
Women usually purchase maternity clothes early in their pregnancy and can often worry about whether or not the garments will still fit in eight months time when they have no idea how big their belly will be.
Maternity clothes are specially designed to stretch across the belly and a little longer in length for tops. If your maternity top fits your shoulders and bust then it will be fine in your later stages of gestation.
Some maternity clothing brands will provide key measurements such as hips, bust, inner leg, so that you can measure your body at home and order your size.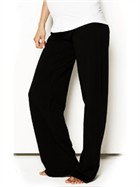 Maternity pants are designed with a stretchy waistband, or special extendable elastic. This means you'll have to judge the fit of your maternity jeans by how they feel on your bottom.  Avoid wearing any pants that are tight on the crutch. For some maternity jeans the inner leg and hip measurements are also specified that helps you determine your correct size.
When buying maternity clothing it also pays to double check the returns policy. We, at Breastmates, offer a no-fuss returns policy for anything (apart from sale items). So if you order maternity clothing but decide you don't like it, it doesn't fit, or even if you just don't like the colour, then simply return it for a swap, credit, or refund.
Happy Shopping!