with every purchase of HOTmilk lingerie you'll be in with a chance to win a Babymoon… details here>>
HOTmilk are celebrating mothers with a Babymoon competition!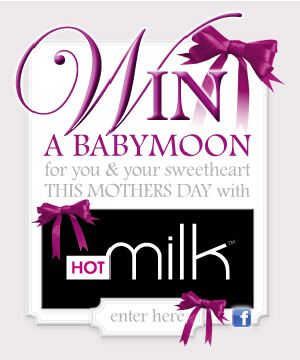 So for all HOTmilk purchases from 1st April to 14th May 2012, you have a chance to win a Babymoon… Plus there are 10 consolation prizes.
All you need to do is buyHOTmilk from Breastmates.  Keep your packing slip as proof of purchase, and then enter on the HOTmilk Facebook Page.
Babymoon prize pack includes:
Dinner & accommodation for two. A sexy hotmilk lingerie set – to wear under your new outfit. AHotmilk nightfall chemise – to slip into something more comfortable.  EGG maternity pleat dress – the flattering crossover style brings out the gorgeous pregnant goddess in you!  Sparkling swarovski earrings – to complete your outfit and put a twinkle in your eye.  Chocolates – to share during those midnight munchies.  Gorgeous scented candle and massage bar – to relax and unwind.
Dinner and accommodation only to the value of $500NZD – paid out in applicable currency to value of NZD direct to the hotel of your choice. Prize not redeemable for cash. The winner will be chosen at random. Entries close Monday 14th May 2012.  Hold on to your receipt for proof of purchase in case you are a lucky winner.  This competition is run through HOTmilk and is just something Breastmates are involved in as a retailer.